The Jungle Book at Liverpool Playhouse
Gemma Gibb, Associate Editor
Head to Liverpool Playhouse this month for a fresh and fun new Jungle Book for our times.  This brand new adaptation of Mowgli's journey of self-discovery from a stellar creative team (directed by Max Webster The Lorax, The Old Vic) celebrates the adventure of growing up in an enrichingly diverse society today.
Aimed at age 6 and over, expect jungle japes galore and hilarious and heart-warming scenes as Mowgli (a human cub raised by wolves) strives to find a way to live in a place where you feel like you don't completely belong, with the help of Baloo the bear, Bagheera the panther and, of course, many less helpful beasts.
Olivier award-winning writer Jessica Swale has taken inspiration from Kipling's orginal short stories to "refocus the tale to celebrate diversity". This Jungle Book is about "community and compassion, about immigration and unity".  So while there is plenty of high jinx, fast paced action and all the good things such as friendship and triumph against adversity and evil for the young ones to revel in, there are also poignant new devices for those with previous knowledge, most obvious being the tackling of previous gender imbalance in alpha females Bagheera and Akela (wolf leader).  Mowgli, meanwhile is played by the critically acclaimed female actor Keziah Joseph however it's clear to the audience that it's a gender neutral part – with Mowgli simply representing a child that's neither particularly male nor female.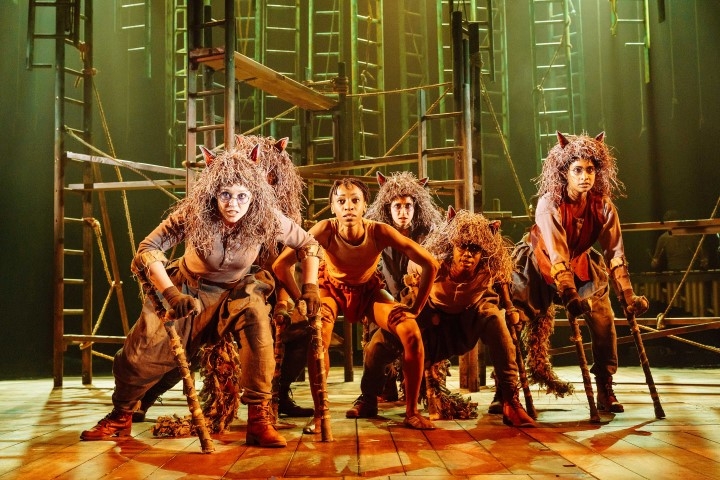 It's not often that a classic tale can have such new energy and emphasis catapulted into it to make audiences truly experience it afresh, however this exciting new production promises all this and more. With an exhilarating original score and a hugely talented cast of actors who are also musicans and pupeteers, it's storytelling of the highest order. And what better stories are there than the adventures of growing up?