The Department of Distractions at the Crucible Studio
Kristy Stott, Theatre Editor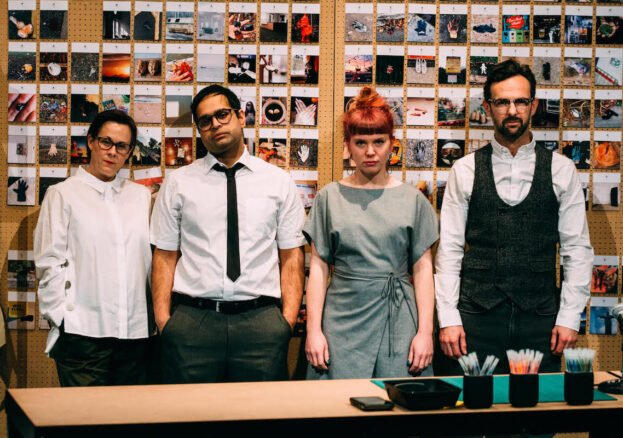 The Department of Distractions is a fantastic conceit, an organisation so clandestine you won't have heard of them and they specialise in distracting people from the truth in their everyday lives. Have you ever sat down to send an important email and got distracted by a web-story about weight-loss tea? That's The Department of Distractions at work. A single glove in the street…a torn-up love-letter on the Metrolink…a pair of shoes hanging by tied laces on the overhead street cables? All examples of the Department at their best. Occupying a space somewhere between George Orwell's 1984 and the warm familiarity of procrastination, The Department of Distractions explores a theme that most of us can relate to.
In The Department of Distractions, Third Angel bring you a conspiracy-theory documentary-exposé detective story for the 21st century that asks: What aren't you looking at?
Sheffield-based theatre company Third Angel have been making exciting and original contemporary performance since 1995. Encompassing live art, performance, installation, film, documentary and photography, their work – usually experimental though always accessible – speaks directly, honestly and engagingly to its audience.
Third Angel have shown work in theatres, galleries, cinemas, office blocks, car parks, swimming baths, on the internet and TV, in school halls, a damp cellar in Leicester and a public toilet in Bristol. The company has shown work at festivals and venues across the UK, mainland Europe and further afield, including Germany, Hungary, Switzerland, Belgium, Portugal, France, Spain, Russia, Lebanon, Brazil and the USA.
The Department of Distractions is a fresh and provocative 90-minute performance – a conspiracy theory detective story for a contemporary audience – fans of  Charlie Brooker's Black Mirror should definitely check it out.