Sumuyya Khader: Always Black Never Blue at the Bluecoat in Liverpool
Maja Lorkowska, Exhibitions Editor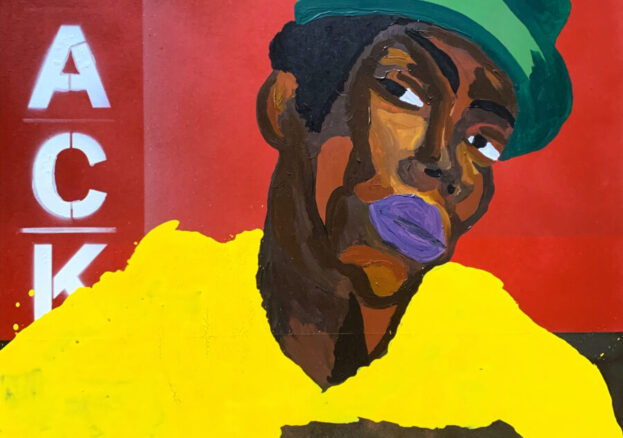 Sumuyya Khader's first solo exhibition at the Liverpool's Bluecoat focuses on Black lived experience and identity, while being a tender celebration of community joy and care. Khader's ability to capture the beauty of daily life flows out through painted portraits, quiet scenes and boldly colourful compositions.
While the show gathers work in different mediums of her work produced to date, from illustration to print, Always Black Never Blue represents a return to painting informed by the artist's residency at the Bluecoat. The images are often accompanied by text, such as 'SAY IT LOUD, I'M BLACK AND I'M PROUD' and STAND UP, SPEAK OUT THIS IS A FIGHT FOR US ALL', urgently calling for empowerment and action made even more immediate by the events of the last 18 months. Through the work, the artist talks about the importance of checking in with the people around her. Simply asking 'Are you okay?' in the face of seismic social shifts resulting from multiple lockdowns and global uprisings becomes an essential act of love and care towards the community.
As well as portraits, Sumuyya Khader's work often features luscious plants, still lives and local parks. The focus on surrounding green spaces signals an appreciation for the restorative nature of these spaces. Particularly for the people living nearby, the tranquillity of a local park may have been a lifeline over the past year and the artist's compositions can be seen as an ode to those local resources.
Khader herself is active in the local community, a prominent voice in the fight against racism in her hometown with the strength of her convictions reflected in both her artwork and actions. In October of last year, she curated an outdoor display Celebrating Black Liverpool Artists as part of Liverpool City Council's Without Walls programme, which highlighted the work of five Liverpool artists and the lack of visibility for Black creatives in the city.
The show's title Always Black Never Blue is open to interpretation, with the connotations of blue ranging from the colour of police uniforms to feeling unhappy. Like the work in the show, the artist hopes it will become a starting point for discussion, particularly where these conversations would be difficult to start organically. A true celebration of the Black community, of people, their joy and power as seen through Sumuyya Khader's eyes is a visual feast not to be missed.