Deborah Roberts: A Look Inside at the Bluecoat, Liverpool
Sara Jaspan, Exhibitions Editor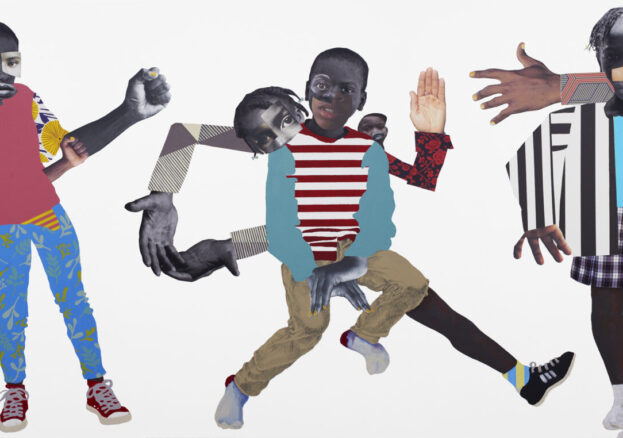 Award-winning artist Deborah Roberts is widely celebrated for her powerful collage images, which critique received notions of the body, beauty, race and identity in contemporary society through the lens of Black children in America. A Look Inside at the Bluecoat in Liverpool marks the artist's first major UK solo exhibition (despite her work being held in several collections) and first significant showing in Europe, bringing together new and recent work from the past five years.
Roberts describes the feeling of 'otherness' as having been at the centre of her consciousness since the beginning of her artistic career, specifically referencing how her early ideals of race and beauty had been shaped by studying Renaissance paintings and the glossy pages of fashion magazines. Her decision to begin image-making was fuelled by a desire to 'grapple with whatever power and authority these images have over the female figure' (Roberts) and make room for women of colour.
Her work is made from found images sourced from the internet and hand-painted details, which combine to make compositions steeped in layers, symbols and double meanings that insist upon close reading. The focus is on children because of the significance of childhood as a stage during which identity is still being forged; both shaped by societal pressures but as yet unfixed. In the artist's own words: 'Each child has character and agency to find their own way amidst the complicated narratives of American, African American and art history.'
In the wake of 2020, which saw Black Lives Matter protests sweep the globe in response to the numerous high-profile murders and acts of violence carried out against Black people, as well as the disproportionate number of Covid-related deaths within the Black community, this exhibition represents a much-needed continuation of the conversation around dismantling white supremacy. Where better a place to stage it in the UK than Liverpool, one of the major slaving ports of the 18th and 19th century.
A Look Inside will be presented in conjunction with Practice Makes Perfect – an exhibition of new work by Rosa-Johan Uddoh (born 1993, Croydon), an interdisciplinary artist working towards radical self-love, inspired by Black feminist practice and writing.