Sounds Like THIS: Electric Storm at Leeds College of Music
Johnny James, Managing Editor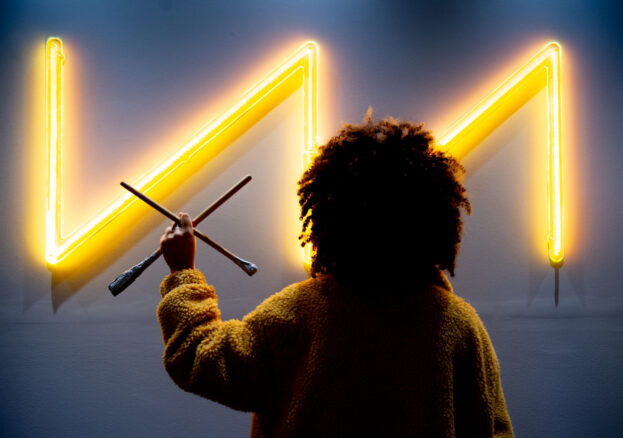 For the third year running, Manchester-based music charity Brighter Sound is hopping over to Leeds College of Music to open Sounds Like THIS – a festival championing cutting edge emerging artists. Brighter Sound's spotlight, this year, will be on Electric Storm, the latest residency born out of their brilliant gender equality programme, Both Sides Now.
Electric Storm brings together 14 of the north's most innovative music creators, producers and digital artists to collaborate on a new audiovisual work inspired by electronic music pioneer, Delia Derbyshire. This new work was written over the course of five days, when Delia Derbyshire Day gave the group access to the Delia Derbyshire Archive held at The John Rylands Library.
https://www.youtube.com/watch?v=OwcLEiNut7Y&list=PLVTsf1XlOneXCeOQXrZPlEoqpWKca6Yqt
The group were able to pore through the entire Archive, but were encouraged to place their focus on the 1969 album An Electric Storm by White Noise – a wildly experimental band masterminded by Derbyshire. Created prior to the widespread availability of keyboard-based synthesisers, this futuristic album has inspired countless greats, from Aphex Twin to Orbital. It's also massively inspired the Residency group, for whom it precipitated their own 'Electric Storm' – an audiovisual adventure crafted at Spirit Studios.
Aside from a handful of people who attended a private sharing at Spirit Studios, nobody has fully experienced the new work forged during this exciting residency – and it looks like this performance at Leeds College of Music might be our only chance to do so! Judging by the calibre of the artists involved – the list includes artists showcased by Glastonbury Emerging Talent as well as a Roundhouse resident – this promises to be a special night. We can't wait to see how all of the 14 artists' multi-disciplinary talents collide!
Residency artists
Alice Nancy
Cally Statham
Cat Scott
Corina Bibere
Danielle Iliff
[Hur̃-guff]
Grace Monaco
Hayley Suviste
IORA
Lavender Rodriguez
Monique
Nyree Waters
Rachael Gibson
Serenity Moon