Stanley & Audrey Burton Theatre
Alice Hiley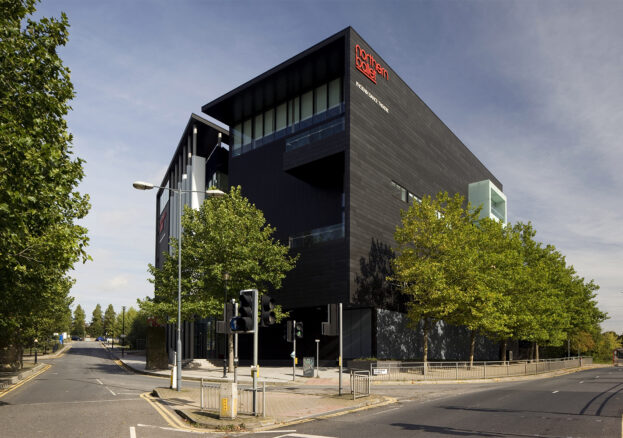 The Stanley & Audrey Burton Theatre is located in the thriving cultural quarter on Quarry Hill, next door to BBC's TV and Radio HQ, Leeds Playhouse and Leeds College of Music. The 230-seat studio theatre is situated inside the imposing, iconic six-storey home of Northern Ballet and Phoenix Dance Theatre, offering an exciting programme of dance, theatre and family-friendly shows. The building is the largest dedicated space for dance outside London and the only venue to house both a national classical and contemporary dance company alongside each other.
The theatre offers a diverse programme of performances from traditional pantomime to cutting-edge ballet and contemporary dance. Acclaimed artists and internationally touring dance and theatre companies have brought their work to the Stanley & Audrey Burton Theatre since it opened, including James Cousins Company, Rosie Kay Dance Company, James Wilton Dance and National Dance Company Wales.
Inclusivity is at the heart of the Stanley & Audrey Burton Theatre and the venue is dedicated to programming diverse and inclusive work; Expressions brings together professional and community groups of disabled dancers for a spectacular yearly showcase.
Inside, the building boasts a range of great facilities to make your visit more enjoyable and memorable. The Stanley & Audrey Burton Theatre has its own café-bar where you can grab a drink before the performances or during the interval, as well as family-friendly facilities including baby changing, pram storage and booster seats available on request. The venue is also fully accessible, with level access to the theatre seats, hearing loops and accessible toilets and parking spaces.
The theatre won the award for Best Family-Friendly Theatre in Yorkshire in the Netmums Theatre Awards. The Stanley & Audrey Burton was also awarded Best Family Venue, Best Family Event and Best Family Welcome for Northern Ballet's Three Little Pigs as part of the 2013 Family Arts Festival.