Sol Calero at Tate Liverpool
Sara Jaspan, Exhibitions Editor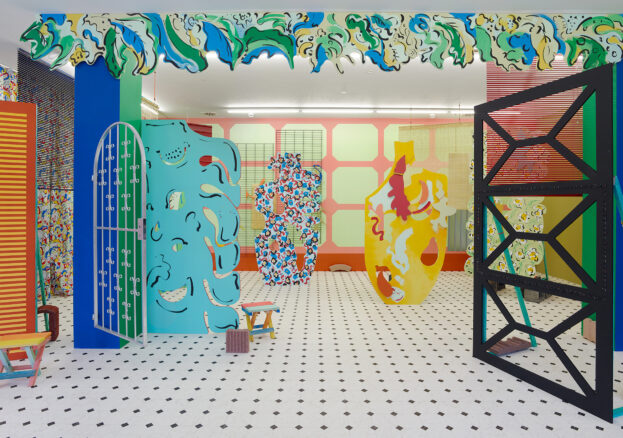 To enter one of Sol Calero's immersive installations is like walking through a stage set tasked to an aspiring designer with an over-exuberant enthusiasm. Or better still, a children's role-play area, where a humdrum post-office becomes a space of fun and pretend – almost by courtesy of its ill-disguised artifice. Though post-offices are yet to form part of her repertoire, the Berlin-based artist has created everything from living rooms and hairdressing salons through to saunas and airport currency-exchange rooms over the course of her early career. Each space is interlinked by a common thread of vibrant colours and tropical references – pineapples, fake palm fronds, salsa frills – that bestow a theatrical sense upon the scene.
Yet don't allow the jubilant atmosphere to overwhelm your senses. Calero's work forms a sharply satirical critique of the surreal set of stereotypes and clichés attached to different cultures. Specifically, the exoticisation of Latin America (the amorphous term into which so many distinct countries get lumped) and 'the Caribbean', which she first encountered upon moving to Europe from her home country of Venezuela. Her practice also spans beyond the simply physical, painted-MDF form of each installation, however, often using the locales she creates as the backdrop for 'activations'; conversations, performances, even telenovelas, that stimulate moments of social interaction and exchange.
More recently the impressive visuality of these constructed environments has grown, Calero exploring depth and perspective to create what are essentially 'walk-in paintings' for her audience to lose themselves within. This further vein of heightened, yet flimsily fantasy perhaps signals a broadening of the artist's concerns; expanding outwards into a wider examination of the ideas and preconceptions with which we furnish our lives more generally. At an exciting point in her development, Calero's new commission for Tate Liverpool in summer 2019 should serve as a one of the cultural highlights of the coming year.