Wild Shore Liverpool
Rory Calland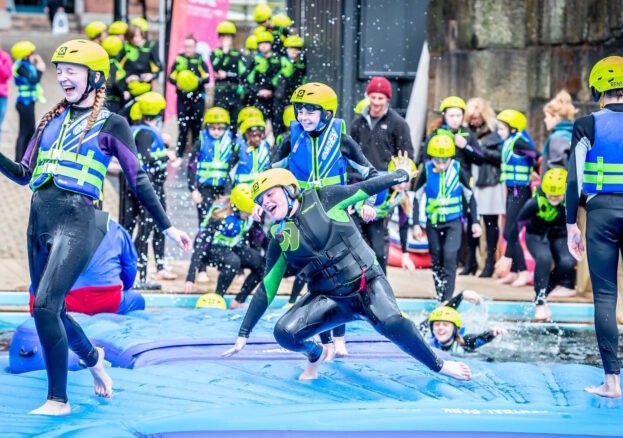 You may know of the giant inflatable obstacle course in Liverpool known as Adventure Dock that has been delighting visitors for some years now. Now, it returns as part of the Wild Shore Family with even more fun in store. Situated in the Royal Albert Dock this bonanza of slipping, sliding, clinging on for dear life and ultimately splashing into the water is riotous fun.
Not so much 'wild water' as 'working water, this historic area at the mouth of the Mersey was once a crucial waterway for trade in and out of the country. The historic red brick buildings make up the biggest collection of Grade I listed buildings in the UK and revolutionised docking in the Victorian Era. Now the area is packed with museums, bars and attractions – none more of a laugh than this one. As far as swimming goes the challenge on most of the obstacles is to not get wet, but unless you're a Total Wipeout veteran it'll happen sooner or later.
'The Narrows', 'The Ninja Jump', 'Figure 8' and 'Mount Ranier' have been popular tests for wet-suited thrill-seekers over the past few years. In the original Adventure Dock there were two courses: a slightly less tricky option, and then the hard route for those who fancied themselves as a ninja warrior. From spring 2021 though, the new Wild Shore will facilitate stand-up paddle boarding, kayaking, and a whole load of new activities.
The rejuvenation of this famed part of Liverpool was a long time coming after bomb damage during the Blitz, but now it's lively once more and home to the Tate Liverpool, the Merseyside Maritime Museum and the Beatles Story no less. Wild Shore Liverpool may just be the jewel in the crown yet.