Rosa-Johan Uddoh: Practice Makes Perfect at the Bluecoat in Liverpool
Sara Jaspan, Exhibitions Editor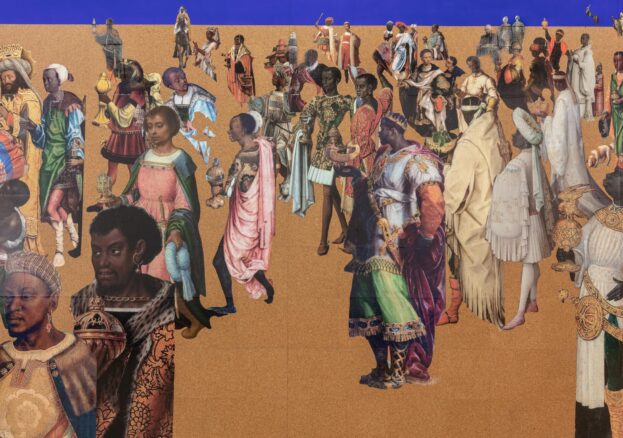 The Black Lives Matter movement has forced Britain to begin to critically re-examine many of the narratives it tells about its past. As part of this, debate has re-ignited around the new National Curriculum that was launched in schools in England in 2014, emphasising a nationalistic celebration of 'Our Island Story' and removing any explicit focus on racial or ethnic diversity from this – perpetuating a very narrow view of what it means to be British or how the country was forged.
Artist Rosa-Johan Uddoh's exhibition Practice Makes Perfect at the Bluecoat in Liverpool has been created partly in response to these debates, particularly around the lack of Black British history in schools and how this impacts children's perception of 'Britishness'. A highlight of the show will be a major new large-scale collage that investigates the historical figure of Balthazar, who, according to tradition, was one of the three biblical Magi and later a Saint, who offered the gift of myrrh to Jesus.
Since medieval times, Balthazar has been depicted as a lone black figure in artistic imagery of the Nativity scene or 'Adoration' – and, as such, is often the first Black person of importance that children encounter in a performance setting. This biblical king is also a figure through which white artists and their patrons in Europe first constructed 'Blackness'. Working with designer, writer and editor, Nasra Abdullahi, Uddoh has mined the vast back catalogue of Adoration paintings made throughout European history to source over 150 historical Balthazars, each of whom have found their way into the billboard-sized collage, arranged in 'friendship groups' on a long march of solidarity to change the West.
The artist has described her approach to creating new work for the exhibition as therapeutic 'wish fulfillment' in a time of uncertainty and tension.
Practice Makes Perfect will also include works on paper, video, and new works that adapt the exhibition to the interior and exterior spaces of the Bluecoat in a continuation of the architectural roots of Uddoh's practice. It will be presented alongside A Look Inside – the first major solo exhibition of work by American artist Deborah Roberts to be presented in the UK. A related programme of public events will be released September 2021.