Roll up for Family Gorgeous at Manchester Art Gallery
Sara Jaspan, Exhibitions Editor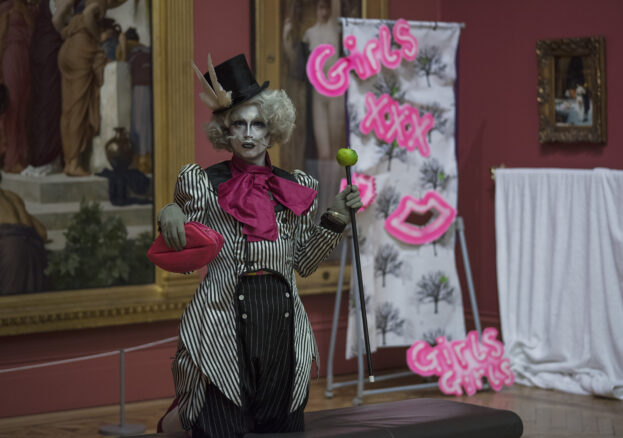 Following the national controversy surrounding the temporary removal of JW Waterhouse's Hylas and the Nymphs (1896) back in January this year, for Manchester After Hours 2018 Manchester Art Gallery presents an evening of performance and discussion centred upon the politics of power and display in museums and galleries.
The removal of the semi-erotic, late-Victorian painting formed part of a wider gallery takeover by staff, visitors and artists led by Sonia Boyce, whose solo exhibition is currently on display just a few flights of stairs away from the scene. During its absence, Waterhouse's canvas was replaced by a series of questions intended to open-up a debate about representations of gender, race and sexuality, and who should decide what stories are told in public galleries.
From 6-7.30pm, delve deeper into the inherited problems that exist within the country's collections and displays, and consider how gallery exhibitions might be made differently in the future, with a probing talk by Dr David Dibosa (Curating and Collections course leader at Chelsea College of Art and Black Artists and Modernism researcher), Ellen Mara De Wachter (writer and curator) and members of the Manchester Art Gallery team.
Then, from 7.30-8.30pm, 'let your hair down' with a drag takeover and provocative series of performances by Family Gorgeous (a collective of six artists who collaborated with Boyce on the original takeover event in response to Waterhouse's painting). Though playful and humorous in approach, the action will fundamentally explore the politics of identity, and attempt to unravel some of the uncomfortable stories and ideas woven into our historic art collection.
The evening will also feature two informal group discussions (5-5.30pm and 8-8.30pm) about our relationships with galleries and collections, and forms the first in a new series of free public events at Manchester Art Gallery titled: Whose Power on Display? Free, booking advised for the 6-7.30pm talk.