Richard Bartle: Nomadic Tales at Millennium Gallery, Sheffield
Sara Jaspan, Exhibitions Editor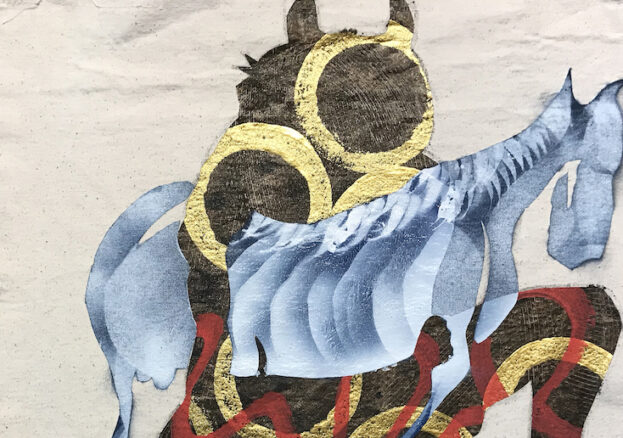 It was in 2005 during a visit to the Royal Academy exhibition, Turks: A Journey of a Thousand Years, 600–1600, that Richard Bartle first came across a number of miniature illustrations by the 14th-century Persian painter and storyteller Siyah Kalem (Black Pen). Fascinated by the demons, nomadic lifestyles and ancient cultures that the small drawings depict, the encounter sparked the beginning of a 15-year period of discovery for the Sheffield-based artist, which took him on numerous journeys to live and make work in Istanbul.
Bartle's upcoming solo show at Millennium Gallery will present a new body of large-scale paintings developed in response to the modern-day city as viewed through the prism of Siyah Kalem's miniatures. Each piece in the series features fragments of graffiti, architecture, political street art, faces, and objects lifted from the streets of contemporary Istanbul; rendered using the same palette and techniques as his artistic predecessor over 700 years before. The result emerges as a personal meditation on the continuities in human experience that transcend time and place, as Bartle began to see images and stories from the Black Pen miniatures constantly reflected in the world around him.
Described by Bartle as "a playful and colourful mix of political commentaries, social observations, and my own inner demons," Nomadic Tales offers an enigmatic look at one of the world's most ancient and richly storied cities. At a time of mounting trouble and instability in Tukey, perhaps this trans-historic view may also provide some element of hope looking towards the country's future.