Paranoid Hollywood: American Political Thrillers in the 1970s at HOME
Tom Grieve, Cinema Editor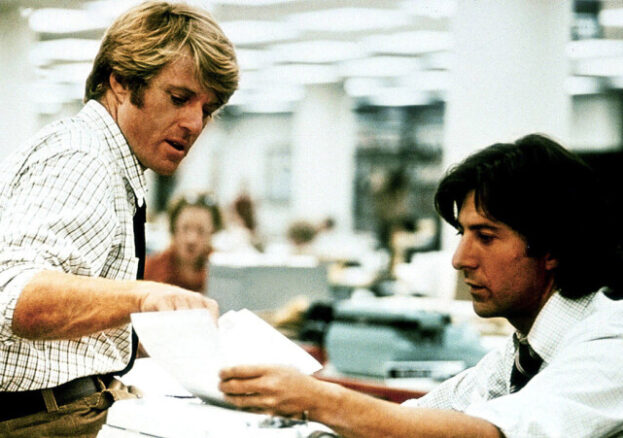 Delving into the murky worlds of spycraft, corruption, surveillance and political intrigue, HOME presents a brand new film season dedicated to American Political Thrillers in the 1970s. Dubbed "Paranoid Hollywood", the programme, devised by curator Andy Willis, looks at America's reaction to the Watergate scandal through the prism of the movies of the time.
The films use some of Hollywood's biggest stars and directors along with the conventions of the thriller genre to engage with the uncertainties and mistrust of the era. They raise questions about what goes on behind closed doors in America's biggest institutions – while also suggesting new types of hero for a world that suddenly looked greyer than before.
The season opens with two of Alan J. Pakula's famed "paranoia trilogy", starting with Robert Redford and Dustin Hoffman as Washington Post reporters investigating Watergate in 1976's All the President's Men (Sun 2 July). That's followed by Warren Beatty as another reporter, this time searching for answers following a senator's assassination in Pakula's 1974 The Parallax View (Sun 9 July).
Our season highlight is probably Francis Ford Coppola's 1974 Cannes Palme d'Or-winning The Conversation (Sun 23 July). The film stars a never-better Gene Hackman as a paranoid, for-hire surveillance expert who unravels as he begins to suspect the subjects of his latest wiretap will be murdered as a result of his work. Produced between his Godfather movies, director Coppola ratchets the tension to chilling effect.
Lastly, HOME's Paranoid Hollywood concludes with Redford again starring in Sydney Pollack's Three Days of the Condor, this time appearing as a quiet CIA researcher, who returns from lunch to find his colleagues murdered. Like the other films on show, Condor trades in uncertainty and institutional disillusionment – qualities still relevant in today's climate of increasingly visible, state-sponsored digital malfeasance.