Olivia Bax: Off Grid at Cross Lane Projects in Kendal, Cumbria
Sara Jaspan, Exhibitions Editor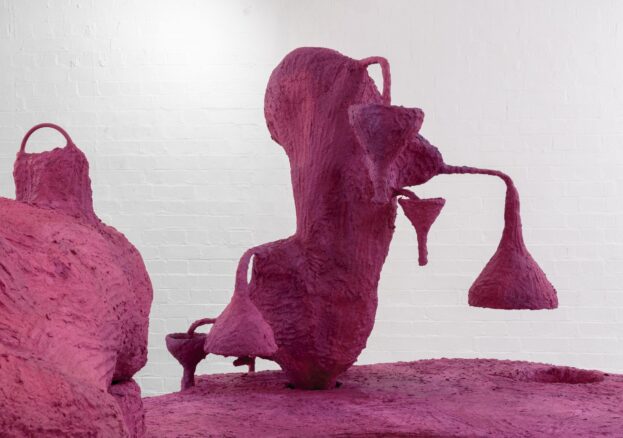 Among the artforms that have suffered most from the recent shift towards online viewing is sculpture; its inherent materiality demanding a chiefly spatial encounter. Which is why a journey to Cross Lane Projects in Cumbria to experience the work of Olivia Bax is essential. The London-based artist is the winner of this year's prestigious Mark Tanner Sculpture Award – one of the most significant prizes for emerging UK artists working in the field – and has received increasing attention over the last few years for the uniquely playful, almost theatrical quality of her brightly coloured, sinuous creations. She is also known for the unusual materials that shape her practice, including steel, chicken wire and a particular kind of paper pulp consisting of discarded newspapers and castaway household paint which she makes herself to create a very distinctive texture. Rooted in drawing, her sculptures carry a fluid, instinctive feel.
Off Grid comprises of five new works – including Kingpin, Bax's largest and most ambitious sculpture to date – which continue her interest in upending viewers' sense of weight, malleability and space. Some of the pieces incorporate the architecture of the gallery in a challenge to the idea of a self-contained, free standing sculpture, whilst others double-up to serve a functional role: providing an opportunity for viewers to sit and contemplate. A slower process of looking and the need to navigate around each work in order to gain a fuller understanding of it is something that Bax has long sought to encourage, but the title of the show also signals an active deepening of this call, inviting visitors to go 'off-grid' – to take the time to briefly disengage from the outside/online world and explore these works in the immediate present, without any sense of haste or distraction. A fitting antidote to our heavily screen-based times and a rich introduction to one of the most exciting new sculptors working today.
Bax was selected for the 2019/20 Mark Tanner Sculpture Award from 240 applicants from across the UK. The selection panel included Anna Reading, winner of the 2018/19 MTSA; as well as artist and co-founder of Cross Lane Projects, Rebecca Scott; director of The Hepworth Wakefield, Simon Wallis OBE; and curator, Emma Kelly.