Ockham's Razor and Contact: Switch and Tipping Point at Upper Campfield Market
Kristy Stott, Theatre Editor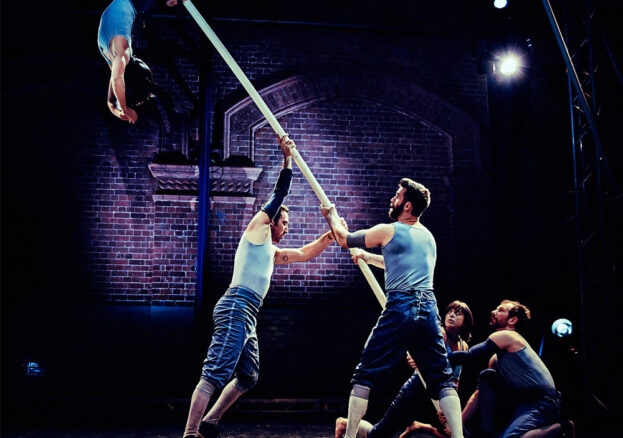 Contact is ready to swing into the second half of their 'In the City' season with the daring and exhilarating Ockham's Razor. Fusing aerial circus with breakdance, martial arts and Shaolin stick fighting, this is a phenomenal circus experience for the whole family this summer.
This high-flying double bill, taking place at Upper Campfield Market, will see Ockham's Razor present their award-winning show, Tipping Point alongside a brand new work – Switch – which will be performed by local young people from North Manchester.
Ockham's Razor really push themselves to the limit in the terrific Tipping Point which features five world-class aerial performers. The company are a well known for exploring the possibilities of non-traditional circus equipment; in Tipping Point they use several long metal poles. Conjuring up a rich landscape of images, the performers present breathtaking feats of acrobatic expertise at height, while the audience gasp in wonder below. Poles are balanced on fingertips, hung from the roof, swung from, climbed up and walked along as they are re-imagined into forests, crossroads and pendulums. This elegant and daring extravaganza is accompanied with music composed by Adem Ilhan & Quinta who have previously worked with Radiohead, Hot Chip and Bat For Lashes.
In keeping with Contact's mission to put young people at the heart of all they do, the other half of the double bill – Switch – will see local young people from North Manchester take to the stage. Switch has been devised and developed by Contact in association with Ockham's Razor. Putting into practice their newly honed skills: aerial movement, dance, circus and stick-fighting, the young performers will reflect on their own Mancunian communities and the challenges they face, from inclusion to integration.