Noises Off at The Lowry
Kristy Stott, Theatre Editor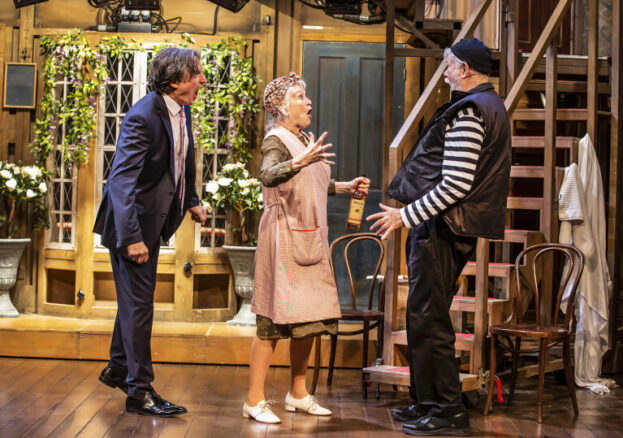 Following a sell-out West End season, the 40th anniversary production of Michael Frayn's much-loved Noises Off comes to The Lowry this autumn.
First performed in 1982, the multi award-winning farce is widely considered one of the greatest British comedies ever written, paving the way for shows like The Play That Goes Wrong. Pulling in enthusiastic crowds from New York to Helsinki, Noises Off has enjoyed stagings all over the world, including five productions in the West End and three on Broadway.
Hilarious and wonderfully chaotic, the legendary and fast-paced play takes us behind the scenes to witness the backstage shenanigans of a shambolic theatre company. Essentially, a play within a play, the performance opens as the cast are stumbling their way through final rehearsals of the fictional farce 'Nothing On'. With less than 24 hours to go until opening night, everything that can go wrong…is going wrong. From their disorganised dress rehearsal in Weston-super-Mare to a calamitous matinee in Ashton-under-Lyne, and their final performance in Stockton-on-Tees, there are plenty of laughs in this high-octane production about this dysfunctional (though highly entertaining) theatre company.
Directed by Lindsay Posner, this touring production boasts a phenomenal cast: the sensational Liza Goddard as Dotty Otley, Olivier Award-winning actor Matthew Kelly as Selsdon Mowbray, and TV and West End star Simon Shepherd as Lloyd Dallas. The cast is completed by Simon Coates as Frederick Fellowes, Lucy Robinson as Belinda Blair, Daniel Rainford as Tim Allgood, Dan Fredenburgh as Garry Lejeune, Lisa Ambalavanar as Brooke Ashton and Nikhita Lesler as Poppy Norton-Taylor.
Hurtling along at breakneck speed, with top-notch timing and lots of charisma, Noises Off has all the trademarks of a superb British farce, as well as being a warm and passionate love letter to English provincial repertory theatre. Don't miss out.