Neil Campbell in conversation with Nicholas Royle at Waterstone's
Sarah-Clare Conlon, Literature Editor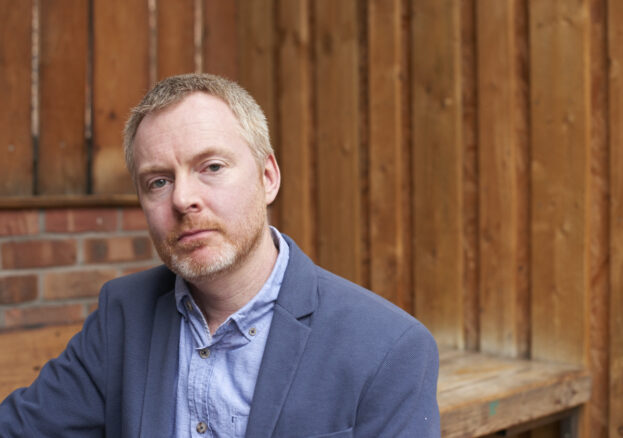 Hailing from and living in Manchester, author Neil Campbell is suitably qualified to write about the city, and this event marks the launch of Zero Hours, the second book in what is being called his "Manchester Trilogy". The first was Sky Hooks, which came out in 2016, and Neil also has four collections of short stories to his name (launching the most recent, Fog Lane, at Verbose last year) plus two poetry chapbooks.
Published by Salt on 15 April (the same day that Man City were crowned Premier League champions – the narrator of Sky Hooks used to train at Platt Lane, so perhaps this is somewhat serendipitous), the new book Zero Hours zooms in on the life of a young wannabe writer who takes a low-paid job in a post office sorting depot. Struggling to square the demands of his zero-hours existence and the attitudes of his colleagues with his own aspirations, he vents his frustrations by scribbling down his thoughts and seeking solace in the unlikely form of a rescued tortoise, which simultaneously holds a mirror up to his disastrous love life.
Already drawing comparisons with Charles Bukowski's Post Office (published in 1971), Neil Campbell's second novel takes the mailman meme and drags him into the 21st century, landing him squarely in post-Recession pre-Brexit Britain with austerity politics, unending uncertainty and difficult decisions all around. As the familiar skyline morphs before the Mancunian protagonist's eyes, change in his own life is bound to be inevitable, but thanks to Campbell's trademark keen observational style, black humour and witty dialogue, you can expect a funny and ultimately uplifting read.
Chatting to Neil at this event is fellow novelist and a senior lecturer in creative writing at Man Met Nicholas Royle, who, wearing his hat of editor for Salt Publishing, has published stories by Neil three times in the brilliant annual Best British Short Stories anthology series – so there should be plenty to talk about, but come armed with a question or two in any case.