Côte Restaurant
Kate Feld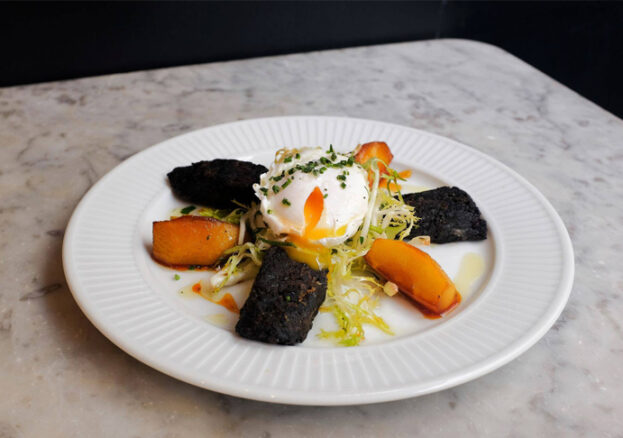 What's been missing from the Manchester food scene? No, the answer isn't a Michelin star…
It's weird. You can need something desperately, still be totally ignorant of the lack until the thing you didn't have is right there in front of you. So it is in Manchester, which has laboured for a long while without a really solid brasserie in the time-honoured French style. Yeah, we briefly had L'Entrecôte (which I loved) but insisting on serving only steak frites is going to limit your appeal. Fortunately, Côte's here to fill the Côte-shaped hole in Manchester's dining scene. Sacré bleu! It's about time.
Our Côte is the latest link in a celebrated chain of restaurants around Britain, cranking out thoughtfully-sourced French cuisine. That's right, they're working with a formula, and who cares when it's such a successful one? What a great pleasure it is to walk into this handsome, vaguely art-deco dining room and slide in to a leather banquette the colour of Burgundy. Nothing over the top about this place, it's an exercise in restrained Gallic class with brisk, professional service.
I'd cunningly managed to convince some of the people I work with to eat here for an office-wide celebratory meal, so I got to sample a good portion of the menu. Someone who knows what they're doing put this one together. Our group included vegetarians, pescetarians and wild-eyed carnivores and no one felt like they'd settled for something they didn't really want, which is impressive in a French restaurant.
You'd expect the puddings to be kind of crap after a meal that good – karma or something
There is a good deal going here; the set menu is £9.95 for two courses, or £11.90 for three (12pm to 7pm daily). However, those in our party who went this route were slightly less excited about how incredible everything was than those of us who ate à la carte. The à la carte menu isn't outrageously expensive either, with mains hovering around the £10 mark, and there's decent variety on the all-French wine list at prices that don't make you feel like you're being assaulted (though a few cheaper bottles wouldn't go amiss).
The stars among the starters were fried calamari with crisp, herby batter and a delicate crab mayonnaise with good grilled sourdough. I liked my main, duck confit from the plats rapides section, but it was slightly overcooked. Accompanying potatoes, fried with springs of rosemary and a few mushrooms, were properly rustic, but the plate was crying out for more veg. Steak frites, chicken breast, duck breast and sea bass were all hits around the table. Best of the mains was my friend's poulet grille, in a gorgeous marsala-style cream sauce with wild mushrooms, which worked well alongside a dish of peas cooked with lettuce and mint.
The puddings stunned us. You'd expect them to be kind of crap after a meal that good; karma or something. Nope. I ordered the crème caramel – the house speciality – and it was one of the best I've ever had. My friends ordered: warm chocolate fondant with vanilla ice cream, crème brûlée and a simple cheese plate with some especially good reblochon. Naturally I insisted on trying them all (well, wouldn't you?). They were all equally great. If this sounds appealing, get some friends down to Côte and start enjoying a welcome addition to the city's small roster of good mid-range restaurants. More like this please.