San Carlo Cicchetti
Susie Stubbs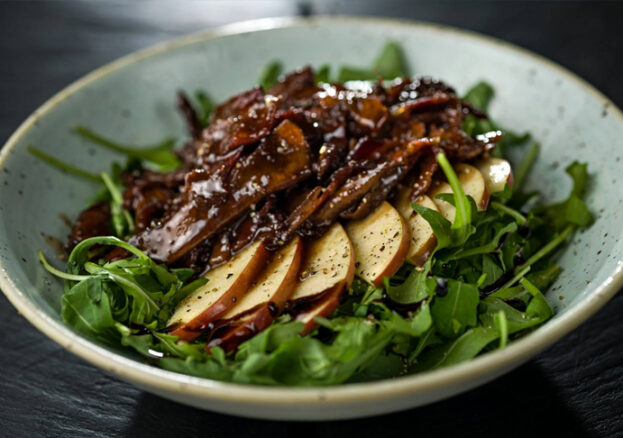 San Carlo's littlest restaurant serves up small plates that shouldn't really be described as life-changing – but are they?
Let's face it: who at some time or other has not envied the lady who lunches? That semi-mythical (at least in my circles) woman whose sole aim in life seems to be to fill the endless, empty hours between drop off and pick up, and for whom money really is no object. Of course, the feminist in me bridles against the idea. Still, having time to myself… the chance to eat, uninterrupted… all that glossily presented food…
Which brings me to San Carlo Cicchetti, the little Italian outfit tucked under the retail wing of Kendal's, a diminutive department-store-diner owned by its bigger brother across the road – Manchester dining institution, San Carlo. It is small, perfectly formed and mirrors in almost every way San Carlo's other department store restaurants (in Selfridges, keep up). I say "almost," as there is one difference: here, the focus is on "cicchetti". These are the small plates served up in Venetian bars; in other words, San Carlo Cicchetti does a mean line in Italian tapas.
Each marble table is laid with expensive linen, super-shiny crockery and, inexplicably, a single tomato and lemon. Said fruit and veg rolled about a bit on our table-top and were not, as initially presumed, the remains of a previous meal. But there was little time to consider their decorative merits; massive menus were handed over and the choosing began.
Cicchetti work best when you lose count of how many dishes you've ordered – which, in between eyeballing other diners and musing over the lonesome lemon, we did. Dishes are brought out as and when they're ready – it's easy to lose track. So out came the baby mozzarella balls, deep-fried into crispy submission and, my god, what's not to like about deep-fried cheese? Then came a baby tomato salad, swimming in oil, and a cute little pizza with spicy chicken on top, the puffed-up base containing none of the doughy clag that afflicts so many a poor alternative.
Out came the baby mozzarella balls, and, my god, what's not to like about deep-fried cheese?
No sogginess, either, when the calamari processed its way to our table, and then – oh look, I forgotten I'd asked for that – came two salt-cod croquettes. These were slightly less successful (think a crab stick stuffed inside a sort of bread-crumbed chip) but no time to consider them properly as – oh god, did we really ask for the duck? – out came the duck salad, the meat shredded glossily, and perhaps a little greasily, onto a bed of peppery rocket.
We waited with baited breath just in case we'd ordered 'owt else but, no. With a cracking wine list, prices that are mid-range and San Carlo's trademark table service, we wouldn't have complained if there had been. Like the department store it abuts, everything is just so terribly, terribly pleasant. There's even a bar where you can perch for a quick coffee and a single small plate.
Most meals out cannot be described as life-changing, but as I sat there, watching patrons who didn't appear to be in a rush to get back to work, and who weren't having to navigate the menu alongside the whims of a tantrum-threatening toddler, the thought did cross my tapas-befuddled brain that I really could be a lady who lunches. Sod feminism, I could submit to a life of meals taken at a leisurely, lunchtime pace. Who wouldn't? Now all I need is a partner willing to pay for it. So – any takers? Anyone? Anyone?