Kendal Poetry Festival at various venues and online
Sarah-Clare Conlon, Literature Editor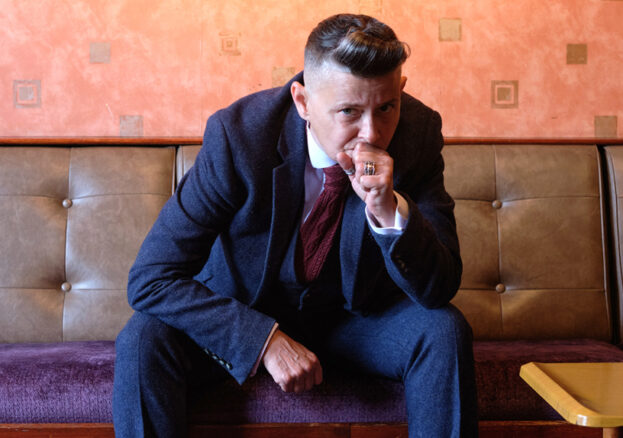 A celebration of contemporary poetry, for its fifth appearance, Kendal Poetry Festival is hybrid, taking place in real life and simultaneously online to showcase workshops, talks and performances from Thursday 23 to Sunday 26 June. Co-directed by Clare Shaw and Kim Moore, in 2022, Kendal Poetry Festival is back bigger, more dynamic and more accessible than ever – and featuring global poetry names alongside South Lakes poets and emerging stars.
Kendal Poetry Festival is back bigger, more dynamic and more accessible than ever – and featuring global poetry names alongside South Lakes poets and emerging stars.
The main festival venue is the Brewery Arts Centre in the heart of Kendal, while Kendal Library will celebrate northern poets Katie Hale, Suzannah Evans and Amelia Loulli in collaboration with New Writing North, and the Painting The Poets exhibition by artist Clae Eastgate will be available to see at Space2Create, with Meet The Artist events running throughout the weekend. There's also a Poetry Trail, featuring work from Dove Cottage Young Poets, performances by the Young Poet in Residence and Young Musician in Residence at the Festival launch on Friday evening, and a Children's Day with celebrated children's poets and acclaimed performers Matt Abbott and Matt Goodfellow running workshops to inject fun into poetry and performance.
Open mics, a panel looking at poetry across borders, supported by the Czech Literary Centre, and even afternoon tea hosted by Brewery Poet Pauline Yarwood are also included in the programme, as is a frank discussion called Why I Write Poetry, when the editor of the Nine Arches book of the same title Ian Humphreys will be talking to contributors Daniel Sluman and Rachel Mann, and taking questions from the audience – come prepared! There are also a couple of workshops from Nafeesa Hamid, as well as Carola Luther and Don Paterson (Saturday 25 June and Sunday 26 June, 10.30am-12.30pm, Brewery Arts Centre and online, £16.50) – be sure to book; there are only 16 places on each.
Main readings take place throughout the Festival, and tickets are £5 for all, both in person and online. On Friday (7.30-9.30pm), Joelle Taylor and Imtiaz Dharkar take to the stage in the Brewery Arts Centre theatre space for an electric night of poetry. Both poets are celebrated for their performances, with Joelle winning the TS Eliot Prize in 2022 for C+nto, a lyrical, expansive, genre-bending dive into butch counter-culture, and Imtiaz publishing over six acclaimed collections, looking at love and loss, home and exile and public and private history.
On Saturday (11am-1pm), Carcanet poets Paul Batchelor and Rachel Mann will be reading: Paul from his second collection Acts Of Oblivion, full of intense moments of lyricism, balanced with the expansiveness of the novel in their treatment of history and place; Rachel from her debut A Kingdom Of Love, in which the Anglican priest tackles themes such as the nature of belief, suffering and love. In the afternoon (2.30-4.30pm), Pushcart and Forward Prize-nominated poet and author Jane Burns will be reading from her latest collection, Be Feared (Nine Arches Press, 2021), while Victoria Adukwei Bulley will be reading from her long-awaited debut collection Quiet (Faber, 2022), a book that explores black interiority, intimacy and selfhood. On Saturday evening (7-9pm), it's the turn of Daniel Sluman, with third collection single window (Nine Arches Press, 2021), a hyper-confessional hybrid memoir of poetry and images that explores the experience of disabled people living in Britain, and John Glenday, whose Selected Poems showcases the range of a poet often celebrated for the spirituality at the heart of his work.
Sunday (11am-1pm) sees Nafeesa Hamid reading from debut collection Besharam (Verve, 2018) alongside Forward Prize-shortlisted Carola Luther, a popular Poet-in-Residence at Wordsworth Grasmere, who will read from her third collection On The Way To Jerusalem Farm (Carcanet, 2021). Later on (5.30-7.30pm), the co-editor of Poetry Birmingham Literary Journal Naush Sabah presents her debut pamphlet Litanies (Guillemot Press, 2021), which uses Sufi prayers and sacred texts as a starting point to explore doubt, dissent and dislocation. She is joined by Don Paterson, winner of the Whitbread Poetry Prize, the Geoffrey Faber Memorial Prize, the Costa Poetry Award, all three Forward Prizes, and, on two occasions, the TS Eliot Prize. His latest collection Zonal (Faber, 2020) takes as inspiration the classic television series The Twilight Zone to create a collection that is an experiment in science-fiction, autobiography and all the spaces in between.
And if that's not enough, you're also invited to join the two festival directors on Friday, Saturday and Sunday morning for a Writing Hour from 9am, when attendees will be given a simple prompt and told to run with it – "No excuses, no interruptions!", we're told. Advance booking is required for these sessions, and all events can be pre-booked, where free, or purchased, where an entry fee applies, through the Brewery Arts Centre – links to each event are via the Kendal Poetry Festival website.