Rosie Garland online book launch
Sarah-Clare Conlon, Literature Editor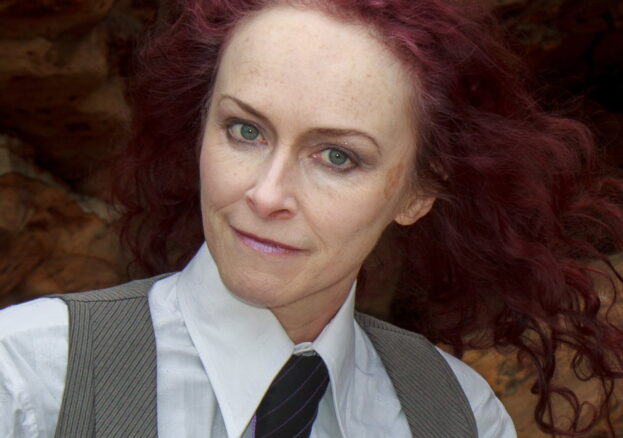 Rosie Garland heads into the ether to launch her latest poetry collection, What Girls Do In The Dark, which came out in October with Nine Arches Press. Featuring readings from fellow poets Tania Hershman and Ian Humphreys, register for the free event via Eventbrite to get the live link by email the day before the event, or head to the Nine Arches Press YouTube channel on the night to watch the livestream.
Perfect for this witching time of year, with the nights drawing in, Rosie Garland's poetry stems from an active gothic imagination, drawing on mythology and the uncanny.
A prolific writer, Rosie's new poetry collection follows 2017's As In Judy (Flapjack Press), the pamphlet Everything Must Go (Holland Park Press, 2012) and Things I Did While I Was Dead (Flapjack, 2010). She also has three novels under her natty bodice belt – her debut, The Palace of Curiosities, was nominated for the Desmond Elliott Prize and Polari First Book Prize, follow-up Vixen was a Green Carnation Prize nominee, and her most recent, Manchester-set The Night Brother is described by The Times as "a delight: playful and exuberant… with shades of Angela Carter".
Her poetry and prose is also published widely in anthologies and journals, including in New Flash Fiction Review, Under the Radar, Spelk, Manchester Review, Interpreter's House, The Rialto, Ellipsis, Butcher's Dog, Longleaf Review and The North. She was inaugural writer-in-residence at The John Rylands Library in Manchester, Val McDermid put her in the Top 10 of the UK's most compelling LGBTQI+ writers, and she even manages to fit singer with post-punk band The March Violets onto her CV.
Perfect for this witching time of year, with the nights drawing in, Rosie Garland's poetry stems from an active gothic imagination, drawing on mythology and the uncanny. Described as "dauntless and enthralling", her new poetry collection invites the reader to "leap into deep space, to venture through strange night-time transformations, between northerly points and places of being and not-being. In a twilight alive with glimmering energy, we discover not just outer-space, but inner space – where the body and the self are made of infinite galaxies, illuminated for the briefest blink of a life". With lines like "biography of a comet in the body of a dog", the poems wonder what it might mean to "escape the pull of gravity and blaze your own bright, all-consuming and astonishing path".
Tania Hershman says: "What girls do in the dark is shimmer, seethe, scorch – and sometimes slip their skins and come undone. Sometimes, girls are comets, foxes, stars. In these dark-bright and necessary poems, Rosie Garland leads us, gentle but firm, to the edges of the galaxy to see what is and what might be, to better see ourselves. As the poet says: Permit darkness. Find light."
Tania joins the event as one of Rosie's support acts. Her own latest book, And What If We Were All Allowed to Disappear, was published in March by Guillemot Press and is described as a prose/poetry and fiction/non-fiction hybrid. Her poetry pamphlet How High Did She Fly came out last year with Live Canon, preceded by debut poetry collection Terms and Conditions (Nine Arches Press, 2017) and the poetry chapbook Nothing Here Is Wild, Everything Is Open (Southword Editions, 2016). Tania is also the author of three short story collections: Some Of Us Glow More Than Others (Unthank Books, 2017), My Mother Was An Upright Piano: Fictions (Tangent Books, 2012) and her first collection, of flash fiction and short stories inspired by science, The White Road and Other Stories (Salt, 2008).
Rosie is also joined at the launch event by West Yorkshire-based poet Ian Humphreys, whose debut collection Zebra was published by Nine Arches Press in 2019 and nominated for the prestigious Portico Prize. His work has been highly commended in the Forward Prizes, and is widely published in journals including The Poetry Review, The Rialto and Magma. A fellow of The Complete Works, his poems are showcased in Ten: Poets of the New Generation (Bloodaxe), and he won the Poetry Society's Hamish Canham Prize in 2016.
Here's the book cover of Rosie's new collection – don't forget to buy your copy direct from the publisher or via Bookshop.org, the brand-new online store supporting local, independent bookshops.