Keith Haring at Tate Liverpool
Sara Jaspan, Exhibitions Editor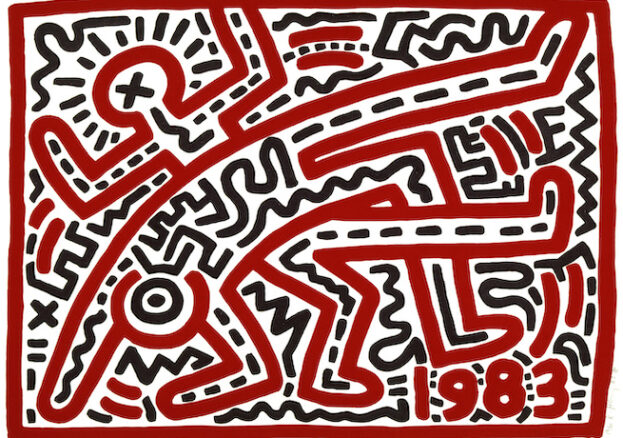 Renowned for his stylistically bold drawings, paintings and murals, which he often made on the pavements and in the subway stations and underground clubs of 1980s New York, the legendary Keith Haring is perhaps one of the most influential and iconic American artists of the 20th century. Through his artwork and tireless activism, he spoke out for a generation on issues including political dictatorship, homophobia, nuclear war, drug addiction, AIDS awareness, racism, the excesses of capitalism and environmental degradation. He also encapsulates much of the raw energy of the city at the time, having worked with and alongside others such as Andy Warhol, Jean Michel Basquiat and Kenny Scharf, and taking inspiration from the exploding graffiti, rap and hip-hop scene that surrounded him.
Haring believed passionately that "the public has a right to art" and wanted his work to reach beyond a gallery-going audience and be experienced and explored by as many people as possible. His large-scale designs can still be found outdoors, and in the schools and hospitals of New York, and he saw the t-shirts, badges and posters that he sold in his famous Pop Shop on Lafayette Street as an ultimate way of countering the highbrow elitism of the art establishment.
Given the level of elitism and wealth that still pervades the artworld, now, nearly three decades after his early death from AIDS in 1990, seems a good time for the long overdue first UK-based institutional solo exhibition of his output. Opening this summer, Keith Haring at Tate Liverpool will bring together 70 of the great artist's works, including large-scale drawings and paintings, complemented by archival documents, flyers, posters, video and photographs. Based on the enigmatic energy and dynamism of his style alone, this looks set to be one of the major cultural highlights of 2019.