Justin Fitzpatrick: Alpha Salad at The Tetley
Maja Lorkowska, Exhibitions Editor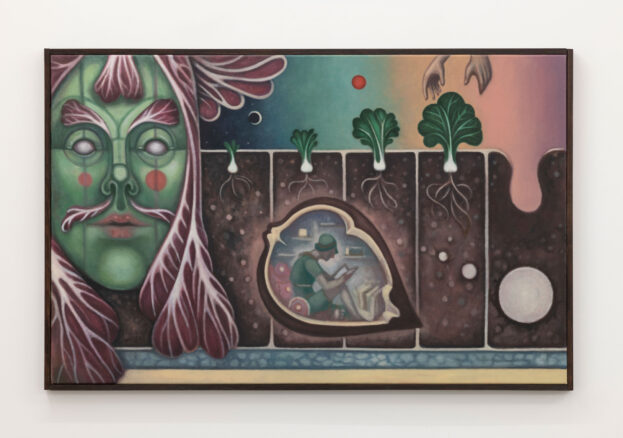 This January, The Tetley will welcome artist Justin Fitzpatrick for his first solo exhibition in a public gallery.
Society's approach to food can take multiple forms. Two of them, however, are possibly most prominent: we either take sustenance, and the process of eating and food production for granted, giving it little thought on a daily basis; or the obsession with photographed breakfasts, 'clean eating' and persistent diet culture often comes to the fore on social media. This paradox, and more generally food in all its glory, has become the focus for a brand new exhibition, Fitzpatrick's works in Alpha Salad will take the viewer on a journey through forgotten worlds and internal organs, from the fantastical to the gruesome.
Justin Fitzpatrick's practice has recently been centred on anatomical drawings, sci-fi book covers and Art Nouveau illustration. For the exhibition at The Tetley the artist's ornate paintings and objects will explore ideas of food, biology, bodily consumption, decadence, pleasure and disintegration.
Alongside new and older works by the artist, Fitzpatrick has also chosen artefacts and archival material from Leeds University Library Galleries and Special Collections, including works by Käthe Kollwitz, Wendy Abbott and Duncan Grant. Alpha Salad is organised as a series of chapters responding to the architecture of The Tetley, starting with sexual reproduction and photosynthesis to the latest stages of food consumption.
The subjects seem to always be in a process of transformation or movement, stilled and stylised by the painter's brush. Figures combining with architectural forms, cross-sections of humans, cats, buildings and planets are all playing a part in intricate scenarios. There is a satisfying symmetry to these works, yet Fitzpatrick is playing with the viewer's perception instead of revealing the inner workings of his subjects. From the bodies that consume to those employed in the hospitality industry, the works examine the more theatrical aspects of food presentation as well as the purely biological need to devour. The compositions are ornate, unexpected and vibrate with energy. It's easy to spend a long time in front of each piece as with every glance, a new element emerges.
Based in France, over the past few years Fitzpatrick has exhibited in London, New York, Paris and Vienna. Finally reaching the North, Alpha Salad will be a feast, both for the mind and the senses.