Just So Festival 2022
Creative Tourist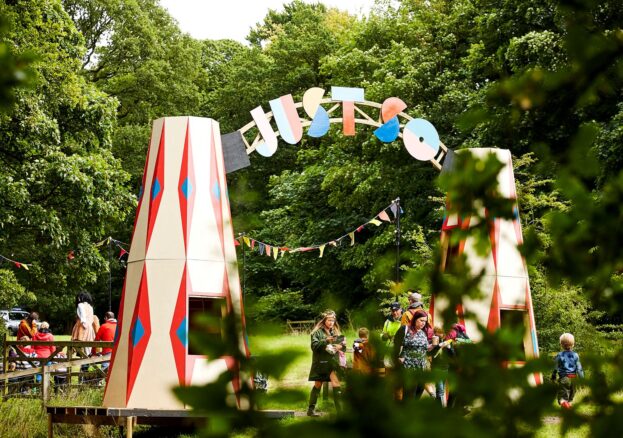 Just So Festival, arguably the best family festival in the UK, is back this August. This is a unique imaginative outdoor family experience just on our doorstep, with a loyal family audience and some of the best arts and facilities for people of all ages – from baby to great-grandparent. The festival offers a unique chance to enter a spell-binding wonderland of world class literature, arts, theatre, dance, music, comedy and creative pursuits, taking audiences on a unique, mischievous adventure, experiencing mystical midnight feasts, curious creatures, secret retreats, delicious food and drink and a variety of camping options, from basic to boutique.
Returning to the breathtaking grounds of the Rode Hall Estate, Cheshire on 19-21 August 2022, Just So Festival will be bringing culture and outdoor arts together in an experience like no other. The Festival's line up is yet to be announced, but luckily for us, Just So have already shared the festival layout, with new and returning areas, as highlighted below.
Head to the Footlights stage, home to the Festival's fantastic bands and performers for an incredible array of bands and performers. Visit Beginner's Luck for superb silliness – fun games, activities, and circus experiences. Check out the Village Green for more performances and crazy goings-on, and dance all night (and all day) at the Flamingo Lounge, featuring workshops and DJ sets.
Over at Shangri-La you'll be able to sit back and relax at the wellbeing sessions, and for the littlest festival goers, make your way to Peekaboo with performances and activities for 0-4s, including music, stories and messy play. If you're looking for something even more magical, enter the Spellbound Forest for stories and bands by the campfire and the illuminating Lantern Parade.
For some timeout, the Woodland Theatre will be showing theatre and film classics throughout the weekend. Deeper into the woods you'll find the Telling Tales area, where you'll hear from authors and poets and down by the Inky Deep lake you'll be mesmerised by the fishy shenanigans and aquatic antics!
We can't wait to share the full-line up with you, which last year included a variety of mesmerising performers, bands, creative activities and artists. Last year's top picks included performer Dizzy O'Dare, with a raucous comedy street show, puppet-maker extraordinaire Judith Hope and Acrojou's mischievous and enchanting Jesters. Other highlights included Papageno's Quest, an interactive musical adventure created for the festival by Clonter Opera Theatre and StrongWomen Science, The Observatory, an illuminated, celestial celebration of the planets and stars, and an eclectic host of musical acts, including Age of Glass, Seas of Mirth and Agbeko. Scots singer-songwriter/harpist Anna McLuckie treated attendees to her hauntingly beautiful nu-folk and London based marimba band Otto & The Mutapa Calling played energetic, joyful music from Botswana, South Africa and Zimbabwe.
Other musical highlights included Salford's finest moustachioed vaudeville ukulele band Thingumabob & the Thingumajigs, and in Literature, hilarious children's author of Boyface, James Campbell and storyteller Ian Douglas told exciting tales in the storytelling area of the Spellbound Forest.
Watch this space for more information in the coming months. In the meantime, block out your diary for the weekend of 19-21 August, and book your tickets through the link below.