Burslem Town Square
Creative Tourist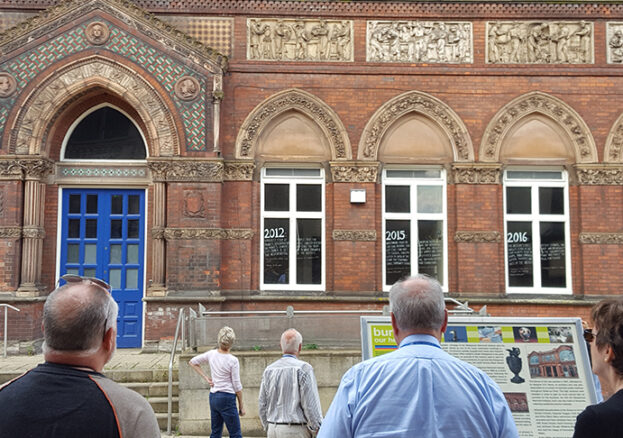 Burslem, 'Mother town' of The Potteries, is one of six towns that make up Stoke-on-Trent and dates back to at least 1085, when it appears listed in the Domesday Book. Thanks to the fine and abundant amounts of local clay that grace the area, a thriving pottery industry has existed in the market town since the 12th century; the rise, decline and revival of which has shaped the lives of its populace ever since.
Today, the wealth and fortune generated by the boom in global demand for Staffordshire pottery from the 18th through to the mid-20th century can be seen reflected in the many fine red brick buildings and architectural displays of civic pride that still dominate Burslem (check out the old town hall, for example) and which form the background to Arnold Bennett's plays and novels. Despite the impact of globalisation, this unique heritage lives on still – the town containing Britain's last real working industrial district.
If you're visiting Burslem, don't skip out the Burslem School of Art. Built on a site where pottery was made since the early Middle Ages, today the impressive purpose-built school constructed in 1853 has been converted into an arts centre with three public galleries, workshops and studio space, and temporarily housing Burslem public library while the Wedgewood Institute (striking for its Venetian Gothic architecture) is being renovated. This summer the School presents two major exhibitions; Common Ground (28 Jul-30 Aug) a solo show of work by Potteries-born contemporary artist Ian Mood, and Three Counties Open (28 Jul-30 Aug) featuring works by Cheshire, Staffordshire and Shropshire artists.
While you're there, check out Old Timers (21 Jul-16 Sep) at Barewell Art Gallery nearby, featuring the paintings of Stoke-on-Trent artist, poet and playwright Arthur Berry (nicknamed 'the Lowry of The Potteries') depicting local characters who lived through the Great War; and WHAT IS NOW (28 Jul-16 Sep), a six-stop arts trail featuring work by 12 new artists and curators in popup spaces throughout the town centre. Burslem as a whole will be alive and bursting with colour throughout August and into September with a 16 week-long RHS Poppy Flower Festival and plenty of bunting to mark the centenary of the First World War. An arts trail, There But Not There, has also been organised featuring war-related installations at Elim Church, St Johns Church and Burslem Park, and a WWI themed will Real Ale Trail will run until 11 Nov.
Elsewhere, catch a series of rare screenings from the Staffordshire Film Archive (12-3pm every Saturday) and a popup 'Burslem in the 1860s museum' (12-3pm every Friday) at the haunted Leopard Inn until 16 Sep; and check out MIDFEST arts festival (28 Jul, Middleport Park) and Burslem Unites music festival (1-3 Sep, Burslem Park and town centre). Lastly, be sure to squeeze in a trip to the time-forgotten Cherished Chimneys antique shop in Longport, stocking reclaimed chimney pots and other unusual items, and where the Brown Betty & Friends teapot exhibition will be on display (Aug-Sept); and take a stroll around the grade II* listed Burslem Park, which was restored to its former Victorian glory in 2012.
Discover more places to visit and things to do in Stoke-on-Trent this summer here.