Middleport Pottery
Sara Jaspan, Exhibitions Editor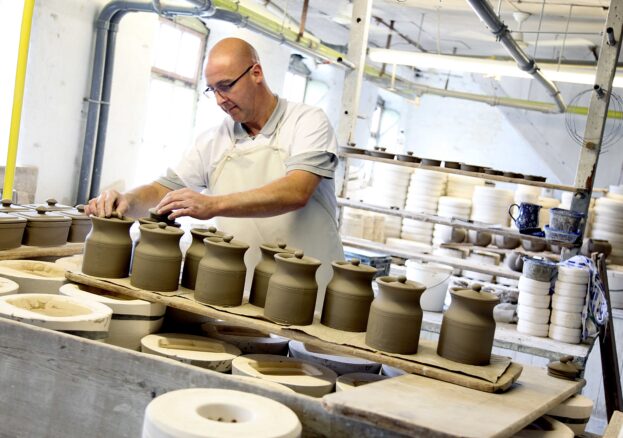 The district of Middleport in the west of Burslem ('Mother Town' of The Potteries) is a place where life, work and history sit closely side-by-side. Its network of distinctive Victorian terraced houses is interwoven with one of the richest stretches of canal-side industrial heritage in Britain, and interspersed with several former and still active factories, including Middleport Pottery – the only working Victorian pottery remaining in the city. Built in 1888, the beautifully-conserved grade II* listed site has been producing its world-famous Burleigh Pottery for over 120 years, with many of its current workforce practicing the same traditional handcraft techniques passed down by generations before them.
Following a £9 million restoration by The Prince's Regeneration Trust in 2014, the factory is now an award-winning tourist destination. Here visitors can step inside the building's monumental bottle kiln, observe the giant steam engine that once powered the entire factory, learn about every stage of Burleigh production 'from clay to cup' on a twice-daily tour through the red-brick maze (£9.50 adults – £8.00 concessions, booking essential) and test their own pottery skills at one of the centre's monthly 'Relax with Clay' workshops (£16 per person or £12 for Middleport Pottery members, booking essential).
If an admirer of handcraft china, make sure you call at the Burleigh Shop, which boasts the largest collection of local Burleigh pottery in existence; and stop for a slice of cake at the centre's perfectly-formed Totally Delicious tearoom where you'll find a series of Burleigh-inspired murals by local artist Joyce Iwaszko. Lastly, don't miss the opportunity to explore Middleport Studios – a group of 10 contemporary and traditional workshops housed within the factory's grounds producing fine art, photography, ceramics, jewellery and bespoke furniture – before you leave.
Note: Music lovers, enjoy an evening of retro nouveau Jazz on 28 Aug and 25 Sept by Fine and Dandy – a talented quartet whose repertoire includes classics from the Great American Songbook, Tin Pan Alley plus the odd foray into Bluegrass (7-9pm, £3 entry on the door).
Find out what else is on in Stoke-on-Trent this summer here.