John Powell-Jones: CYBERJUNK at Castlefield Gallery in Manchester
Sara Jaspan, Exhibitions Editor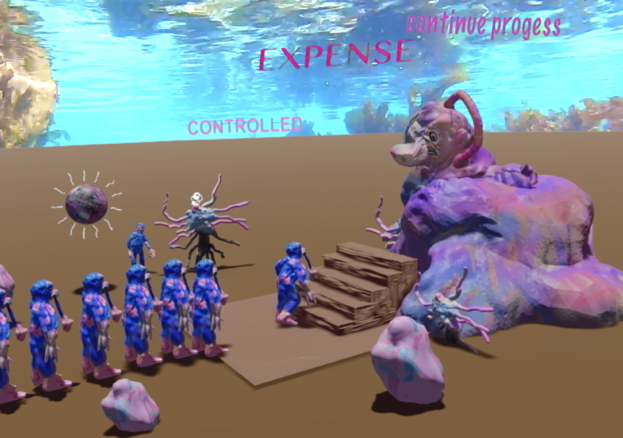 John Powell-Jones' first major exhibition, presented jointly at Castlefield Gallery in Manchester and IMT Gallery in London, takes the artist's ongoing examination of how dominant ideologies and power structures influence our perceptions of reality a stage further. Through his signature use of speculative fiction (informed by European folklore, body horror, survival horror and science fiction), CYBERJUNK transports visitors to the inhospitable planet of Durt, 1,000 years after the Quantum Crash – a botched experiment that saw the first humanoid quantum teleportation result in a disaster of apocalyptic scale.
Durt is populated by Borgs (the evolved residue of the humanoid teleporter, who became known as Awl-The Original Walker) and their protector, Droer-Carrier of the Maggot, who appear throughout the expansive, museum-like display in the form of comic illustrations, ceramic figures, life-size models and textile pieces. This enigmatic cast of cyborgs, demons and maggots, and the dystopian future they inhabit, become a humorous yet unsettling vehicle through which Powell-Jones offers an incisive critique of the horrors of capitalism and neoliberal ideology that govern so much of our present existence in the West.
CYBERJUNK is characterised by Powell-Jones' distinctly DIY approach, making use of inexpensive materials, such as cardboard, tape and recycled wood, as well as open-source software. The artist's favouring of this approach serves as a direct act of opposition towards the dominant model of market production and consumer culture that places the gains of a small human elite and technological progress above the health and wellbeing of Earth and the rest of its inhabitants. A B-movie aesthetic runs throughout, with bright blues, fleshy pinks and slime greens.
True to form, this ambitious exhibition offers a unique and illuminating perspective on the commonly agreed ideas and version of reality that so many of us accept without question. Step into this allegorical world for a different perspective on our own.