John Moores Painting Prize 2023 at Walker Art Gallery
Katie Evans, Exhibitions Editor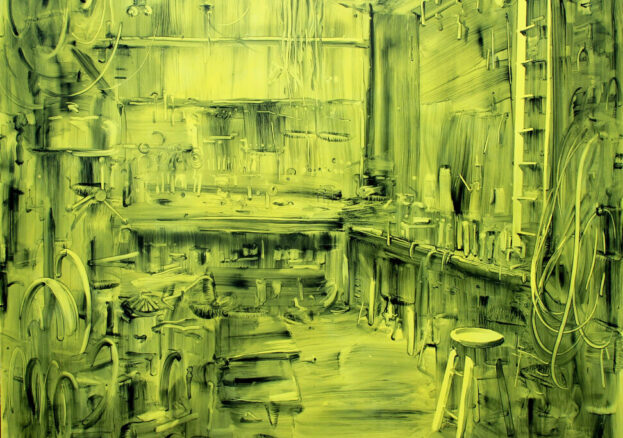 The John Moores Painting Prize is back, and bigger than ever!
Every two years, the John Moores Painting Prize returns to Liverpool's Walker Gallery, where visitors flock to see paintings from all four corners of the UK. First launched in 1957, the biennial showcases the vibrancy of contemporary painting, proving each time to be a generous reflection of the wider painting ecosystem that's happening across the UK.
This year, the coveted £25,000 prize has been awarded to Graham Crowley, whose painting 'Light Industry' was selected by the judging panel out of a record-breaking 3,357 entries. Crowley, who joins an elite group of past prize winners including David Hockney (1967), Peter Doig (1993) and Rose Wylie (2014), was inspired by a visit to a motorcycle dealer's workshop. The grease-like mechanical application and the resultant glowing light was commended by the judges for brilliantly capturing the unique character of the space.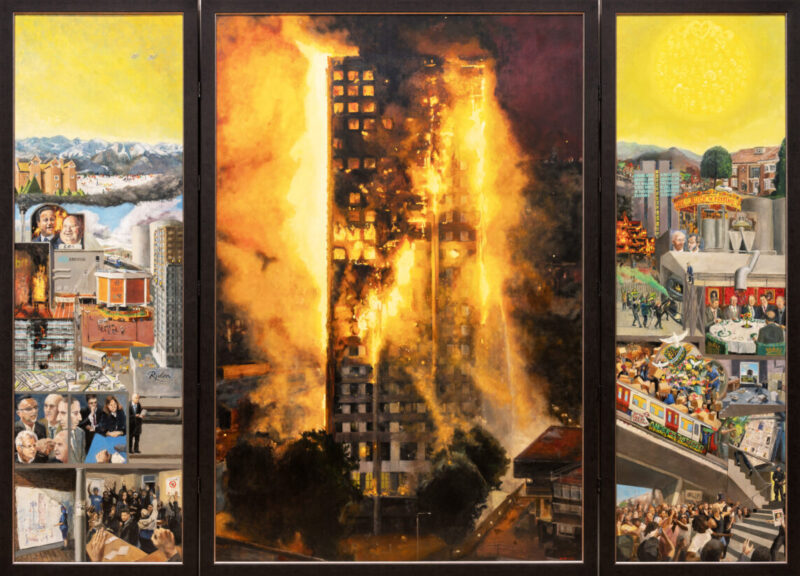 The shortlisted 'Social Murder: Grenfell in Three Parts' is a sobering triptych altar-piece dedicated to the Grenfell Tragedy. When opened, the three panels reveal a centre image of the Grenfell tower block in flames, between two panels illustrating the systemic greed and injustice that Grenfell's inhabitants were and are still victims of. When closed, the triptych forms the image of the green Grenfell heart, a symbol of ongoing resistance and perseverance for justice. 
The other three shortlisted works share degrees of optical illusion. On the far wall, Emily Kraus's 'Stochastic 14' is a panorama of undulating scrapes and rhythmic lines of colour. Meanwhile, Francisco Valdes's 'Champagne Cascade I' is a gorgeous illusion where strips of thick paint alternate with raw canvas to create an image of opulent champagne glasses. There's a vintage aesthetic, not entirely knowable, something past that can be imagined but not fully seen.
And Damian Taylor's 'Other Light' could easily be misread as a minimalist abstract work. Only by walking alongside it, seeing the light shift over it, do the eyes pick up what appear to be figures in nineteenth-century clothing set in a natural landscape. Again, in setting the image in history, Taylor, like Valdes, is utilising a painting method that ensures it's not immediately visible as a whole, it's a fragmentation of information that requires 'filling in'.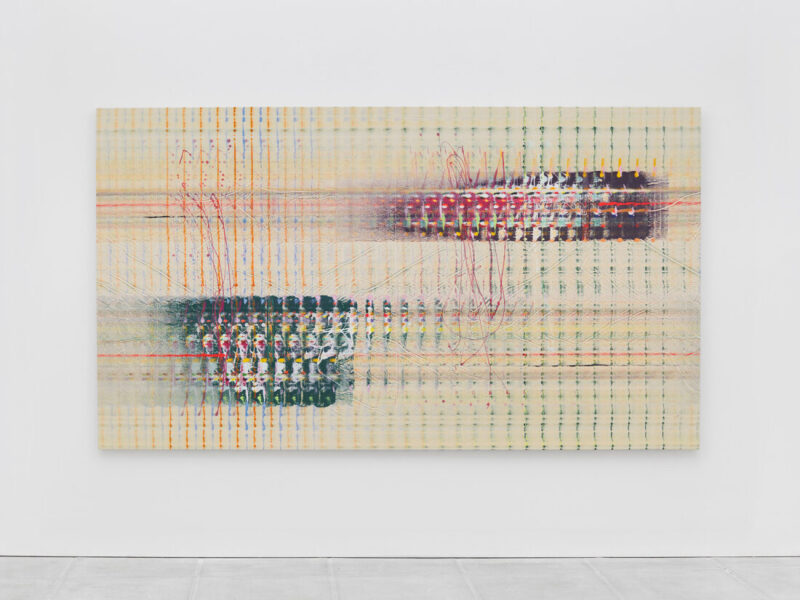 There is a wealth of painting styles on display: photorealism, impasto, glazed, wet-on-wet, sculptural… For viewers, it means a sustained excitement and surprise, with plenty of eye-catching paintings that incite humour, awe and curiosity:
There's Danny Cameron's 'Virgin and Child', where the most replicated figurative image throughout art history is given a striking rebrand. A refreshing dash of comedic figurative expression underpinned by strong draftsmanship pierces the historical and religious heaviness of the duo. 
Meanwhile, in 'Garden Party', Dale Lewis's luscious application of sickly-sweet pinks and blues amplifies the grotesque large-scale zombie figures. The bright, joyful colour palette juxtaposes the petrifying sight of tearing limbs and flaking flesh. Somehow, the image calls to mind three boozy mates bungling out of the pub. 
And after 'Garden Party', Martyn Cross's 'The Comin' Through' serves as a visual lemon sorbet – a sharp and welcoming pause that smacks of those lingering summer evenings.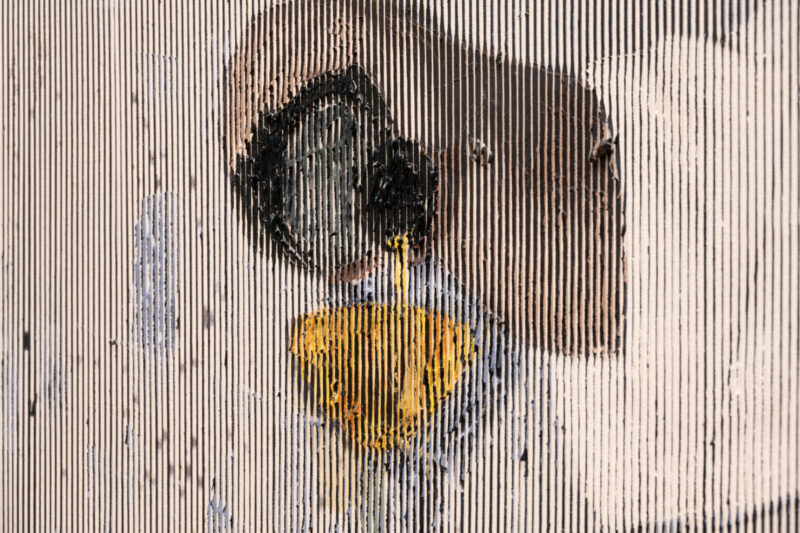 A setting sun and advancing clouds with much of the toned canvas exposed result in an image that could be made of sand. Stand back to see an eye and ear appear in the sea waves. Not necessarily looking out at the viewer, the figure is looking beyond the frame with the type of melancholia that lingers in those final days of summer. 
There are also a number of paintings conjuring sci-fi and mythology. From Dave Adcock's 'Wall', a bronze sculptural wall befitting a Martian palace, to Gina Hammersley's 'Smile for the Camera', a corrupted home-video-still resulting in nightmarish expressions and hallucinogenic seventies patterns.
The darkly camouflaged 'Her husband didn't die, he just became beautiful' is a slick oil spill of blues. Magdalena Gluszak-Holeksa has created an anxiety of looking, the worry that something or someone will suddenly appear in the frame. Meanwhile, the anxiety in 'Web Zeal' is all contained in the frame of what appears to be a film roll. The strangeness of the green wrestling figures is made even more cinematic with pink shadows and a grainy quality, like a poor VHS copy has fuzzed the image.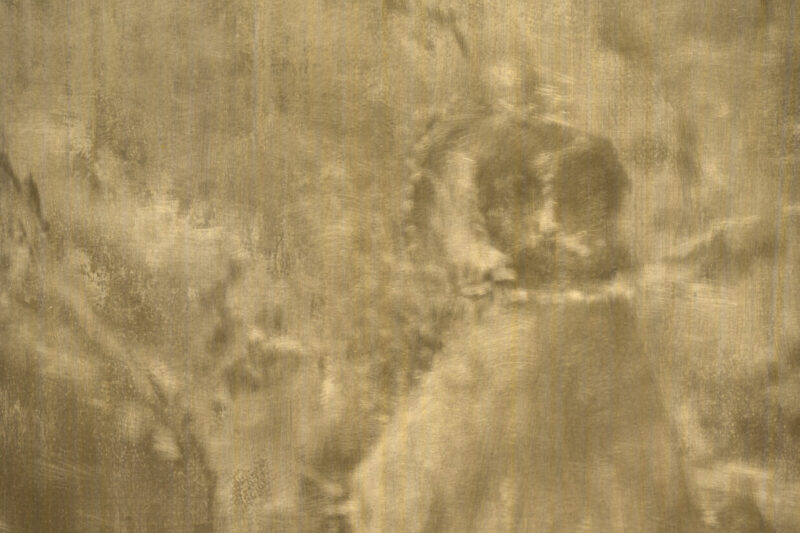 Aside from the John Moores Prize, as one of Europe's finest galleries, visitors to the Walker will also be treated to an outstanding collection of painting and sculpture, especially its recently reopened medieval, renaissance and baroque displays, including a Rembrandt and towering King Henry VIII portrait.  
The John Moores Painting Prize is on display until 24 Feb, with concession tickets £2.50 and general admission £5.