Walker Art Gallery
Polly Checkland Harding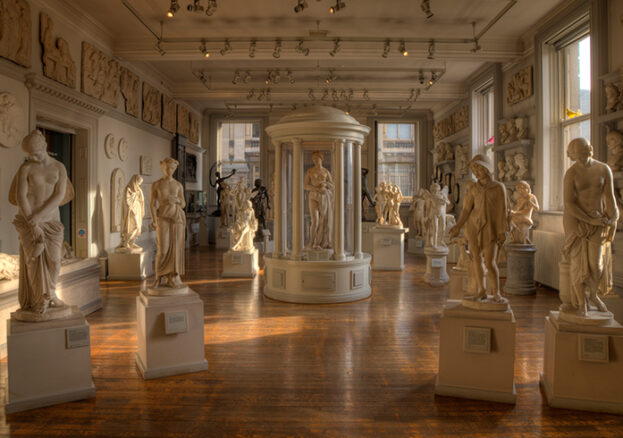 Though relatively small in size, the Walker Art Gallery houses one of the most significant collections of paintings in the UK, as well as sculpture and decorative art dating from the 13th century to the present day. The origins of the gallery's holdings can be traced back to Liverpool Royal Institution's acquisition of 37 works from the collection of William Roscoe, a prominent local figure who was forced to sell his collection in 1819 when his banking business failed.
Today, the Walker Art Gallery is home to masterpieces by Rembrandt, Turner and Rubens, important Pre-Raphaelite works, an outstanding selection of sculpture created between the 18th century and World War I, and a large collection of Western European costume. The gallery also hosts one of the most prestigious art competitions in the country, the John Moores Painting Prize, every two years; winners include David Hockney and Peter Blake, who claimed his 1961 win was among his proudest achievements. There's even provision for future artists, Big Art for Little Artists is a dedicated children's gallery, as well as a café and shop.
Following the Roscoe acquisition, the city's collection was built through annual exhibitions held by the Liverpool Academy and Liverpool Society for the Fine Arts, two competing organisations that eventually led to the other's collapse. The foundation of the gallery itself was made possible by a donation of £20,000 by local brewer and alderman Andrew Barclay Walker; not previously engaged in the arts, the gift may have been an attempt to improve the reputation of brewing at a time when temperance was on the rise. The gallery opened in 1877, was extended in 1884 and 1931, and given over to the Ministry of Food during World War I for the administration and distribution of ration books. One of the first gallery's to hold a regular conservation programme in the 1950s, the establishment of the John Moores Painting Prize in 1957 has since ensured that the very best contemporary painting would come to Liverpool every other year.
The Walker Art Gallery is one of a number of world-class cultural attractions in Liverpool. Discover more in our guide to the city.