Jocelyn McGregor: Mantle at Castlefield Gallery
Maja Lorkowska, Exhibitions Editor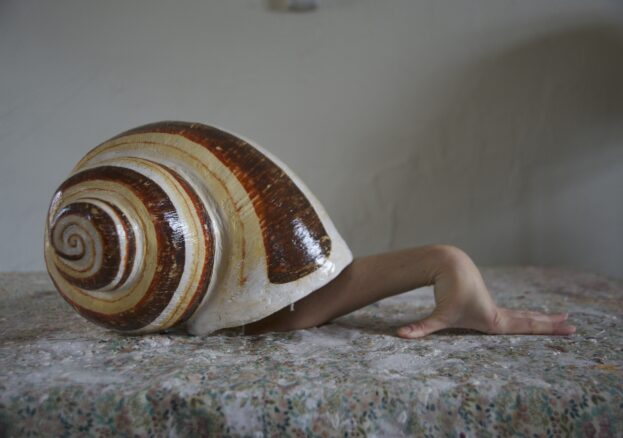 Jocelyn McGregor's first solo exhibition Mantle is opening this month at Castlefield Gallery, featuring brand new work that is quite literally crawling and snaking around the gallery.
The Cumbria-based artist's varied output includes sculpture, installation and animation. Ranging from fantastical to unsettling, McGregor's work is overflowing with symbolism related to female identity, nature, and the underlying conflict between the organic and man-made, combining domestic settings with intrusions of organic, yet alien objects. She puts together the human body with oversized snail shells, feet resting on a pile of grass and hair: these are things that should perhaps be in museum vitrines but have somehow escaped and seamlessly attached themselves to our world, the mundane everyday.
Jocelyn McGregor was selected for Bloomberg New Contemporaries 2018 and exhibited in the Liverpool Biennial; and was also Artist-in-Residence as part of the British Council SWAP UK/Ukraine Residency Programme 2019-20.
Her project Magpie (2019 – 2020) consisted of deconstructed vitrines housing fangs and hairy forearms, tricking the viewer's eye into seeing organic snakeskin in a painted hosepipe. Wearable Works on the other hand, play with the (artist's) body and its relationship to the artificially created objects such as spider webs, woven from the very human material that is thread yet could easily be mistaken for the real thing at first glance.
When seeing McGregor's work, multiple descriptors come to mind: organic yet unnatural, fleshy, ancient, surprising. The sculptural pieces draw you in while simultaneously making you shiver. The artist reveals the ambiguous relationship between nature and humans, a horror-esque view of the female body and its haunting depictions in combination with semi-natural forms. Drawing inspiration from horror films, the Eco-Gothic aesthetic and throwing in machine-made elements, McGregor's view of that which is organic, human and artificial is not straightforward, there is no separation between real or fantasy, peace and violence. The objects blur the lines we are accustomed to and culminate in that which is so satisfying when we experience art – the unexpected.
New works for the exhibition will include brand new wearable sculptures used as appendages to extend the human body, alongside bats, spiders, worms and limbs lurking around the space. Mantle may leave viewers with more questions than answers, but these pieces are sure to stay with audiences long after visiting the gallery.