Jerwood Makers Open at Manchester Art Gallery
Sara Jaspan, Exhibitions Editor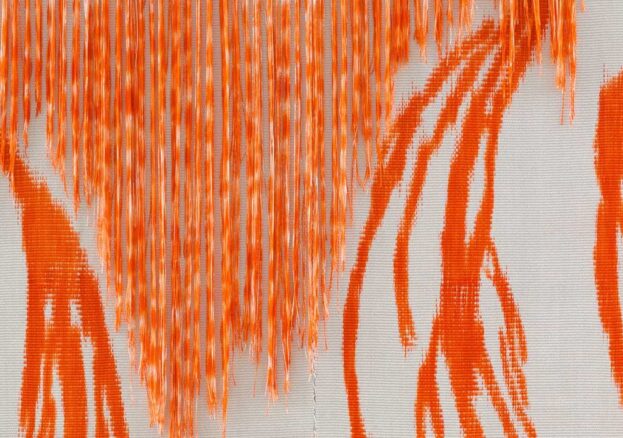 You could perhaps say that it is the very fabric of art that the Jerwood Makers Open celebrates and nurtures. The biennial was established in 2010 to promote the significance of making and materials within the visual arts landscape, and to support early-career artists of distinct skill and imagination. For its seventh edition, Mark Corfield-Moore, Forest + Found (Max Bainbridge and Abigail Booth), Lucie Gledhill, Bethan Lloyd Worthington and Tana West were selected by a notable panel of industry leaders and established artists, including sculptor Rana Begum, fashion designer Grace Wales Bonner, and V&A Senior Curator Alun Graves. The exhibition of their newly commissioned work has been on tour across the country since 2019 and has now reopened at Manchester Art Gallery following lockdown.
On display, Corfeld-Moore's three vibrant orange tapestries explore fireworks and their relationship to time, memory and the history of textiles, informed by the weaving practices of rural communities in northern Thailand and the Scottish Highlands – places he travelled to using the £8,000 grant awarded to each artist. Drawing upon techniques not dissimilar to weaving and embroidery herself, jeweller and chain-maker Lucie Gledhill presents a series of large hand-carved sculptural interlocking 'curb chains' made from wood, steel and silver. Their smooth surfaces are hard to resist running a hand across.
Working from a deep connection to the land, Forest + Found's family of grounded vessels are the result of their journeys into the heart of Epping Forest and areas of Sussex woodland to source raw, natural materials and pigments. With a similar arboricultural focus, Bethan Lloyd Worthington's wall piece, meanwhile, is made up of numerous ceramic objects that respond to the recent controversy over Sheffield City Council's felling of street trees, explored through a range of archival, poetic and art historical sources. Lastly, Tana West's installation presents visitors with a ceramic version of a hall of black mirrors, using the reflective qualities of glazed surfaces to distort and obscure different views in a comment upon our imperfect psychological vision of reality.
Collectively, the works offer a fascinating look at how artists are engaging with traditional materials and techniques today, working within a rich contemporary context. Craft and artisanship are by no means dead.