Ibibio Sound Machine at YES
Johnny James, Managing Editor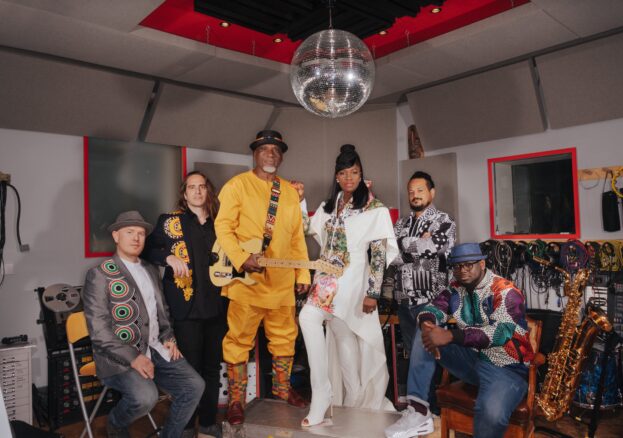 Fusing West-African funk & disco with modern post-punk and electro, the electrifying Ibibio Sound Machine are taking over YES for a whole weekend this March!
Fronted by British-Nigerian vocalist Eno Williams, the eight-piece band released their eponymous debut album in 2014 on Soundway Records. Its combination of London-tinged club music and Nigerian funk, disco and pop immediately caught the attention of the world's music press. Lead single 'Let's Dance' was a visceral, groove-focussed belter, driven by incessant bongos, quirky synths and overblown brass. The full-fat funk of 'The Talking Fish' was similarly great. Its oh-so-delicious bass line and hip-swinging guitar solo left a smile that lingered long after the record's intense hype inevitably faded.
2017's Uyai (meaning "beauty" in the Nigerian language of Ibibio) deepened the cross-cultural alchemy of its predecessor, and focussed on themes of liberation and power. The album's opener 'Give Me A Reason' is one of Uyai's most arresting tracks. It's a Talking Heads-tinged cut whose propulsive bass, sassy brass stabs and defiant vocals turn a tragic story of kidnapped girls in Nigeria into an impassioned call for empowerment. The expansive and experimental techno-rock track 'Joy (Idaresit)' is similarly compelling, with Williams prowling like a lioness through a landscape of wild rhythms, euphoric chanting, and futuristic synths. Elsewhere, simmering tracks like 'Quiet' and 'Cry (Eyed)' offer some shade to the record's glorious light.
Whilst the energy on Uyai is sublime, it's clear that this intensely visceral music is best experienced live. That's why we're excited about Ibibio Sound Machine taking over YES' Pink Room for not one but two nights on the 15 and 16 March. Tickets cost £14 per night, or if you want to party for the whole weekend (because, I mean, why wouldn't you?), it's a steal at just £25.