Golden Mummies of Egypt at Manchester Museum
Shekina Rose, Families Editor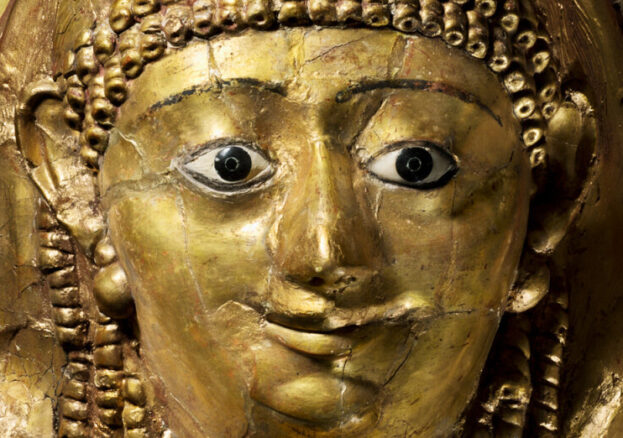 It's the summer holidays and surprise surprise, we are experiencing a lot of rain! Not to worry, we have a great rainy day solution for you – go back in time to a world of opulence and mystery at the Golden Mummies of Egypt exhibition at Manchester Museum. All indoors!  Experience an extraordinary collection showcasing the exciting world of ancient Egyptian history and get a glimpse into the enigmatic world of mummification and the fascinating Egyptian burial practices during the Greco-Roman period.
The ancient Egyptians believed in an afterlife, and the elaborate golden masks and jewellery worn by the deceased were meant to protect and assist them on their journey to the next world. Young people and adults alike will enjoy learning about the fascinating tales, myths and stories from a time and a place that seem so far away from us now, and examining the awe-inspiring craftsmanship and artistry in the Golden Mummies' artefacts.
Enjoy an immersive experience through carefully curated exhibits and interactive display, while learning about the mummification process, the beliefs surrounding the afterlife, and the cultural significance of these golden adornments in ancient Egyptian society. This collection is not only a visual treat, but also an educational journey into the beliefs and customs of a civilisation that thrived thousands of years ago.
Manchester Museum cares for 18,000 objects from Egypt and Sudan. Excavated at a time of British rule of Egypt in the 1880s-1910s, how we respond to these objects may reveal more about ourselves than about the people who made and used them.
So for a free, fun, AND educational day out where you also can guarantee a roof over your head, head to the Golden Mummies of Egypt exhibition at Manchester Museum. And there's so much more for families to enjoy once you've been 'mummified…', including visiting the skeleton of a sperm whale, dino-adventures, and meeting one the rarest frogs in the world.
There's also a shop, a cafe, a picnic area and all sorts of baby and child friendly facilities. You can browse. You can eat. You can change your little one's nappy – what's not to love?!