Gang of Four at The Ritz
Johnny James, Managing Editor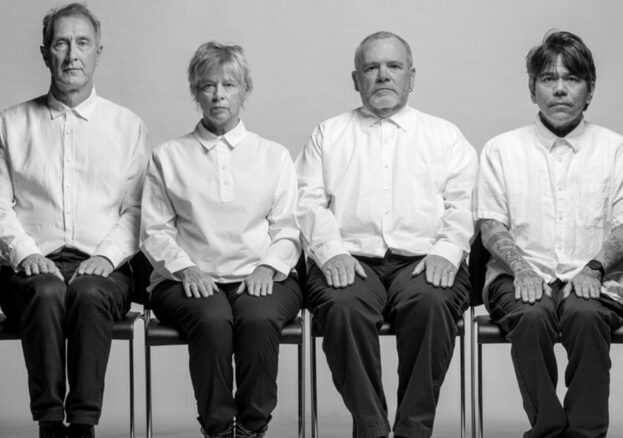 As post punk continues to enjoy a huge resurgence among the country's buzziest bands, watch one of the groups who helped birth the genre: Gang of Four at The Ritz.
Gang of Four formed in Leeds in 1976, pioneering a style of music that inverted punk's blunt and explosive energies, favouring tense rhythms, percussive guitars, and lyrics that traded in Marxist theory and situationism. If The Clash were the urban guerrillas of rock'n'roll, Gang of Four were its theoreticians, putting every element of the traditional 'rock band' format to question, from notions of harmony and rhythm to presentation and performance right through to the lyrics, in which interpersonal relationships become politics in microcosm.
All this made Entertainment!, their debut album, revolutionary. Stylistically, it draws heavily on punk rock but also incorporates the influence of funk, dance music, reggae and dub. Drummer Hugo Burnham and bassist Dave Allen provide the record's danceable foundation, while Andy Gill's jazzed, razor-edged guitars bring something more aggressive, employing negative space rather than guitar solos to get his point across. On top, Jon King's brittle, half-sung vocals interrogate everything from the turbulent political environment of Thatcher-era Britain to America's consumerist decadence, often through the prism of relationships, which are reduced to "contract[s] in our mutual interest" ('Contract').
1981's Solid Gold delved further into a quicksand of discontent. More choppy rhythms, staccato noise and pared-down arrangements drive home cries of despair like 'Paralysed' and 'What We All Want' which, while not as compelling as the likes of 'Damaged Goods' or 'Natural's Not In It' from their debut, offered up their own brooding intensity. Songs of the Free was a more upbeat dance of death, with Sara Lee (fresh out of Robert Fripp's League of Gentlemen) replacing Allen as the band's bassist. Poppier cuts filled this one, with the anti-militaristic 'I Love a Man in a Uniform' finding post-disco dancefloor success. They pursued this direction, with mixed results, with 1983's Hard (minus drummer Hugo Burnham), before an extended hiatus.
The band faded from view but their influence persisted, leading them to reunite intermittently from 1991 and the album Mall, although King and Gill were the only consistent members. Finally, King left the group, with Gill continuing to record and tour as Gang Of Four with new bandmates (including vocalist John Sterry), his final release being 2019's critically praised Happy Now. Tragically, the following year, Gill passed away at the age of 64, leaving behind a deep and transformative musical legacy.
In 2022, Jon King, Hugo Burnham and Sara Lee reunited, joined on guitar by David Pajo of Slint, and toured the US in support of the 77-81 box set, which received a Grammy Award nomination. The shows were massively acclaimed, the post punk architects still capable of pulling off incendiary live performances. Now, the gang return to the North of England, where their chaotic but thrilling journey began, nearly half a century ago. Catch them at The Ritz on 4 October, where they'll be supported by local punk quartet Loose Articles.