Emily Speed: Flatland at Tate Liverpool
Sara Jaspan, Exhibitions Editor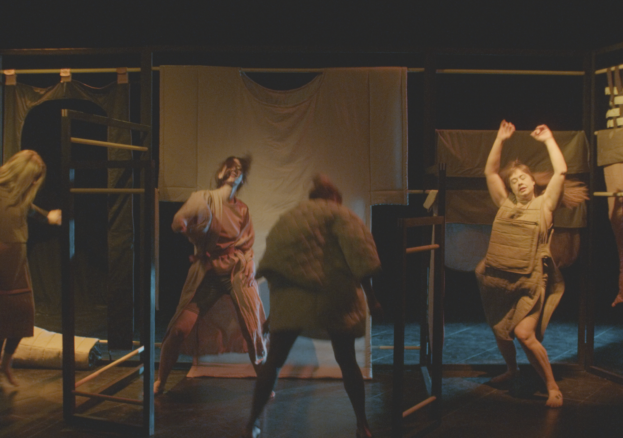 Written pseudonymously by 'a Square', the English theologian Edwin A. Abbott's famous 1884 novella, Flatland: A Romance of Many Dimensions, envisages a world where all existence is limited to two dimensions and women are restricted to thin, straight lines. The text satirises Victorian society and the role of women within it, and has influenced and inspired generations of artists and scientists alike. Among them is Liverpool-based Emily Speed, whose new film installation (of the same title) at Tate Liverpool departs from the Square's vision, using set design, choreography and costume to depict flattened hierarchies and close-knit community structures.
Enacted by four performers dressed in utilitarian housework garments, Speed's Flatland offers a snapshot of one day in the life of a community of women, told across 12 short scenes. Echoing Abbott's novella, the women begin line-like and rigid before working together, unfolding, to create more colourful, layered and complex shapes through increasingly vibrant movement. The theme of unfolding is also reflected in other ways, such as by the portable stage set in which the film's action occurs, which is inspired by manually operated Japanese kabuki theatre sets. These functions at times like the pages of a book, folding and changing in different directions. The set is also influenced by Speed's local village pantomime, whilst the film's action follows a traditional pantomime structure as a means of providing familiarity and predictability, but with a focus on cooperation, support and joy. The film is threaded by a short text written by novelist and short story writer Eley Williams.
An overarching concern that runs throughout Speed's playful practice is the relationships between people and architecture, particularly how people are shaped by the buildings they have occupied and how they occupy their own psychological space. The installation will be accompanied by 'The Corridor' (1950) – a haunting, claustrophobic painting from the Tate Collection by the artist Maria Helena Vieira da Silva, whose depictions of allegorical space, expressing the psychological experience of architecture, have long influenced Speed's work.
Promising to be anything but flat, we're looking forward to experiencing this surreal piece of collaboration between writers, artists and makers from across the years.
Note: This work can be experienced via a mixture of audio and visual components, including text and on-screen visuals alongside closed captions and British Sign Language interpretation.