Fireworks & Fire Garden at Mayfield Park
Kristy Stott, Theatre Editor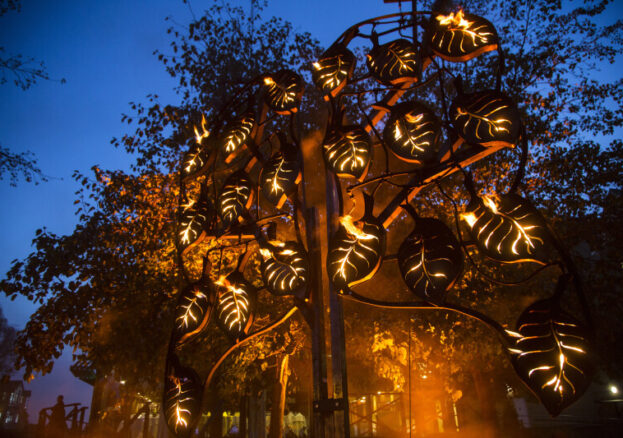 For Bonfire Night 2023, Freight Island has teamed up with the acclaimed outdoor arts company Walk the Plank to present Fireworks & Fire Garden at Mayfield Park.
The 6.5 acres of Mayfield Park will be transformed into a unique family-friendly spectacle of flames and heat for one weekend only when audiences are invited to experience the Fire Garden.
With crackling embers, shimmering shapes and plumes of fire, the Fire Garden is a fiery night-time touring installation designed by Walk the Plank. Audiences are encouraged to wander through the hand-crafted fire sculptures or stand and watch – close enough to feel the warmth. Expect flame-lined paths among copper flowers that breathe fire, scorching sculptural trees and intricately carved flaming flower boxes – this outdoor fire installation is a truly dazzling spectacle.
Walk the Plank have wowed audiences with their Fire Garden installations since 1999. Animating a wide range of different settings across the UK, each blazing installation is site-specific – shaped by its surroundings or a particular theme. From fiery grottoes and a music stage ablaze at Festival Number 6 in Portmeirion to a procession of fire and a spectacular Viking ship on Barry Island promenade, the Fire Garden has also previously visited many more destinations, including Chatsworth House, Lost Eden at Kendal Calling, and Blackpool's Heat the Streets.
Following the Fire Garden promenade experience, a mesmerising firework display will light up the sky above Mayfield Park and neighbouring Freight Island.
Enjoy a magical outdoor experience for all ages on Bonfire Night weekend. This event provides the perfect opportunity to get wrapped up, head outdoors and experience something new with family and friends.