Families at the National Football Museum
Shekina Rose, Families Editor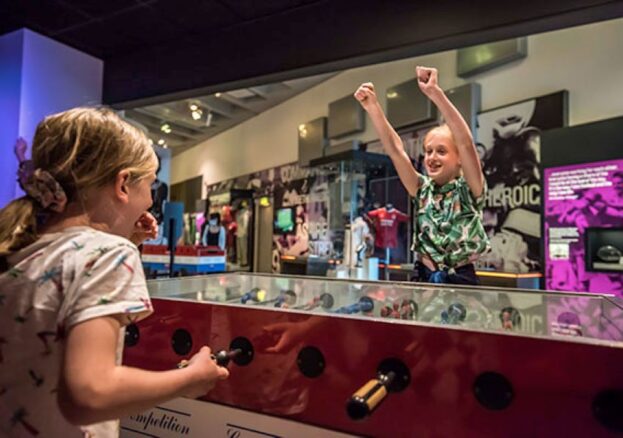 Activities for families at the National Football Museum are all based inside, so it's a great option if you're looking for a fun, indoor experience on a rainy day. The activities start on entry to the building, where you can pick up a family-friendly trail map to assist you in finding some of football's top treasures, as you explore the exhibitions and galleries.
You will be captivated in the Incredible Stories and Objects exhibition, exploring the history of football in a way that's accessible for the whole family. The exhibition showcases the world's finest, shiniest collection of football objects. The Score Gallery exhibition is another area to explore. This section highlights the inspirational football players and managers who have contributed significantly to football, or perhaps been a voice and advocate for young people.
Do you dream of lifting a trophy one day? You and your family can have individual or group photos taken with the museum's dazzling premier league trophy, and if you want to take a trophy home, there are replicas available in the shop.
It's not just about exploring though, there's room for football practice too. Have a shot at being the next top-penalty scorer in the Penalty Shootout experience. Can you get the ball past the talented virtual goalkeeper?!
After the penalties, you can have a go at other activities in the Play Gallery, all designed to brush up your football skills.
And with practice comes play. Under-5s can play, learn and explore in the Discovery Area, with activities such as dressing up, a story corner and soft play.
Activities for families at the National Football Museum are available all year round.