Elisabeth Frink: Fragility and Power at Abbot Hall Art Gallery
Sara Jaspan, Exhibitions Editor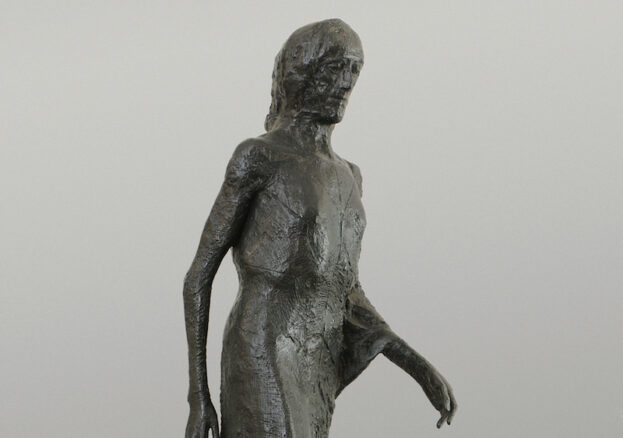 Anyone who has visited Liverpool Cathedral will probably have encountered the lone figure that stands naked, with an air of majestic solitude, above the building's West Doors. 'The Welcoming Christ' was Royal Academician Dame Elisabeth Frink's final great work, described by her biographer Stephen Gardiner as "a vivid mirror-image of the artist's mind and spirit, created against fearful odds." She died of cancer just one week after its installation in 1993.
Frink is broadly recognised as one of the most exciting and individual sculptors of the 20th century and one of the few to have achieved widespread public popularity. Whilst ignoring the growing trend towards abstract and conceptual art that dominated the 20th century, her figurative depictions of horses, birds, dogs and the human form are characterised by a simple yet striking quality of pure, archetypal essence. Her greatest influences include, diversely, the work of Alberto Giacometti and Auguste Rodin.
This summer, Elisabeth Frink: Fragility and Power at Abbot Hall Art Gallery in Cumbria marks the artist's first large-scale solo exhibition in the North West for several years, featuring over 50 sculptures, bronzes and works on paper (including a number on loan from private collectors that have never been seen before in public) presented throughout the gallery's grand Georgian interior. Drawn from various different periods from across Frink's career, altogether the selection provides a unique insight into her methods and story told using her own words.
Although Frink seldom depicted the female form in her own work, Fragility and Power is presented alongside a number of other nearby exhibitions solely dedicated to female artists and which explore the theme of female subjectivity. Combine your visit to Abbot Hall with a trip to Cross Lane Projects – a new contemporary gallery and artist studio housed in a former Kendal Mint Cake factory – where Female Trouble (18 Jun-24 Aug) features 21 prints by Dame Paula Rego and 20 paintings by Rebecca Scott, and writer and musician Viv Albertine will be in conversation on 24 Aug from 6.30pm. And Brewery Arts Centre, which is also hosting exhibitions by Cumbria-based artists Kate Gilman Brundrett (12 Jul-7 Sept) and Frances Winder (27 Jul-29 Sept), whose large-scale abstract paintings often focus on the edges of shorelines, fields, rivers and lakes and reflect on themes of erosion and decay.