Do Nothing at YES
Johnny James, Managing Editor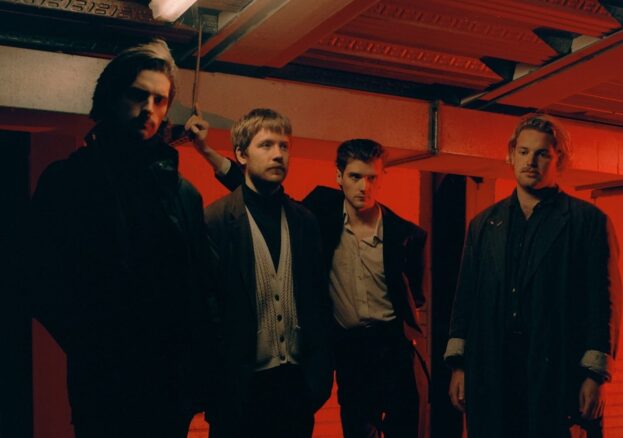 Equal parts taut post-punk and off-beat new wave, Nottingham's Do Nothing are one of the most exciting bands on the scene at the moment, and you can catch them live at YES on 13 October.
"I'm going round in circles like a little baby eel / In a glass of water / All the way to Glueland" sighs Chris Bailey in 'Glueland', the funk-infused title track from Do Nothing's second EP. Slightly absurd, idiosyncratic images like this run through the five-track release, used to convey a feeling of being stuck in a state of mundanity – AKA in 'Glueland'. Bailey explains: "It's about how rather than being dictated by wild or dramatic decisions, a lot of things (both good and bad) are controlled by this sort of lame jockeying that happens right in the grey dull middle ground of everything".
But the grey dull middle ground is far from where Do Nothing operate. Propelled by acerbic lyricism, razor sharp guitar hooks and off-kilter drum grooves, 2021's Glueland blows most bands in the crowded post-punk scene out of the water. Its interest comes by way of contrasts; on the one hand you've got this nonchalant, I-don't-care vibe in the looseness of the grooves and in Bailey's speak-singing, but then there are these layers of self-awareness and sentimentality in the lyrics and in the poignant harmonies. It's the way the band lurch between these two poles that makes their music captivating.
Take 'Uber Alles', one of the best tracks. It's got these delicate verses that dig into a… sort of… disco-for-ghosts vibe, not dissimilar to Radiohead in its eery prettiness, its melodic melancholy and lyrics that deal with self-doubt. But then it's got these urgent and spiky instrumental sections that offer up something entirely different, something more visceral and fierce. Each section reinforces the intensity of the other, before finally, the fiercer beast wins and a sliding, math rocky bass and deranged guitars propel the track to its cliff-fall conclusion.
This thing about contrasts, it's not new; Do Nothing's debut EP, Zero Dollar Bill, did the same thing, in the same captivating way. It also showcased, perhaps even better, Bailey's penchant for brilliantly obscure, often hilarious lyrics, drawing on everything from Fyre Festival villain Billy McFarland to The Simpsons' Lionel Hutz. But the plot thickens with Glueland for the reason that the band were able to get more experimental sonically, due to more studio time. From the title track's ominous synth bass to the spacey vibraphones in 'Uber Alles' to the crunchy drum samples in 'Rolex', 'Knives' and 'Great White Way', this is the sound of a post punk band entering a new realm.
It's thus a really exciting time to catch Do Nothing live. What's more, as the EP was released during lockdown, the band have still only performed these new (ish) tunes live a handful of times, which always brings a thrilling kind of danger with it.
Snapping at the heals of bands like Squid and Black Country, New Road, big things surely lie ahead for Do Nothing, who, it turns out, do quite a lot, actually. With tickets likely to sell out for YES, grab yours while you can.