Black Country, New Road Livestream
Johnny James, Managing Editor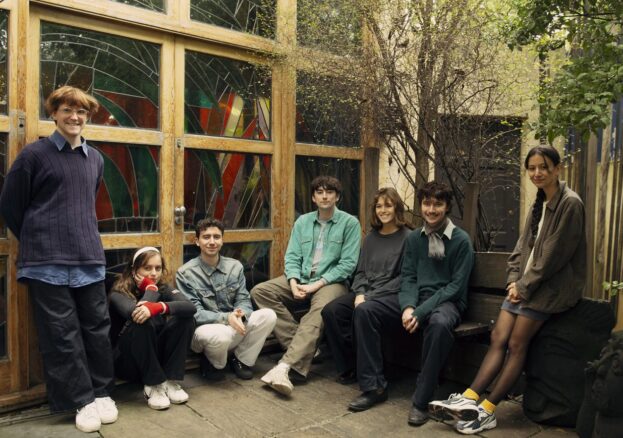 Black Country, New Road have just dropped their long-awaited debut album. A carnivalesque take on post rock that incorporates influences from free jazz to Jewish Klezmer music, For the first time (Ninja Tune) sounds like nothing else in guitar music right now. To celebrate its release, the London seven-piece are livestreaming a set from the Southbank Centre on 6th March.
Alongside the likes of Black Midi and Squid, BCNR built a reputation as one of the unhinged must-sees at Brixton's Windmill venue from 2018 to early 2020, before the lights of the entire music scene went out. The raw promise of those early sets was mirrored by their 2019 single, 'Sunglasses'. "Welcome to the best new six-part Danish crime drama", intoned frontman Isaac Wood by way of introduction, foreshadowing a sprawling and decidedly esoteric study in tension. Squawking saxophones, Slint-indebted guitars and sprechgesang vocals were mirrored by surreally funny, elliptical narratives that captured life in all its intimidating mundanity – from images of frail hands gripping Nutribullets to a couple arguing about Kanye West.
Along with twin single 'Athens France', 'Sunglasses' has been re-recorded for the album, having been refined over many months of touring. Tucked between them is 'Science Fair', a gnarly, almost malevolent track in which BCNR really stretch the limits of the 'rock band' format. Making ungodly mincemeat of genres, squalling guitars and saxophones trade blows as strings sleuth up and down like they're examining the scene of some unsolvable crime. Meanwhile, Wood reals off impenetrable Lynchian vignettes about someone encountering various romantic crises at science fairs and Cirque Du Soleil performances. It's at once maddening and captivating.
The biggest surprise of the album is a song that more-or-less lacks surprise. The penultimate cut 'Track X' is a hushed, off-kilter ode to young love, complete with angelic backing vocals, poignant strings and confessional lyrics. It's the most cathartic and simply enjoyable track BCNR have released. The aptly-named finisher, 'Opus', meanwhile, is typically sardonic and freewheeling in its span of genres – end-times jazz meets Balkan dance music, anyone? With the band's technical proficiency on full display, they oscillate between plaintive rumination and a kind of maniacal dance to the end of the world. "Everybody's coming up. I guess I'm a little bit late to the party", Wood wrenches over and over, as possessed saxes and strings reach fever pitch. But the centre cannot hold, and For the first time collapses into silence.
And in that silence, we realise that we are none the wiser as to what the hell has just happened over these past 40 minutes. There are no answers on this record; BCNR throw a thousand questions into the air and watch them ricochet off the walls, each one compounding the next. But answers are boring; questions keep you coming back for more, keep you searching for new ways to pick the locks. Aside from BCNR's precocious talent, it's this restless inquisitiveness that makes For the first time so interesting – new idea after new idea is launched into the unknown, each hurled with more ferocity than the last, until the record blacks out from overexertion. What more could you ask from a debut album?
Black Country, New Road have got plenty of live dates in the diary for 2021, but let's be honest, it's anyone's guess as to whether these will happen. Their livestream performance at the Southbank Centre, however, is resolutely on, and it's one of the highlights of our cultural calendar this March. It's accessible from anywhere in the world, and tickets are available via DICE.