Squid at Albert Hall
Johnny James, Managing Editor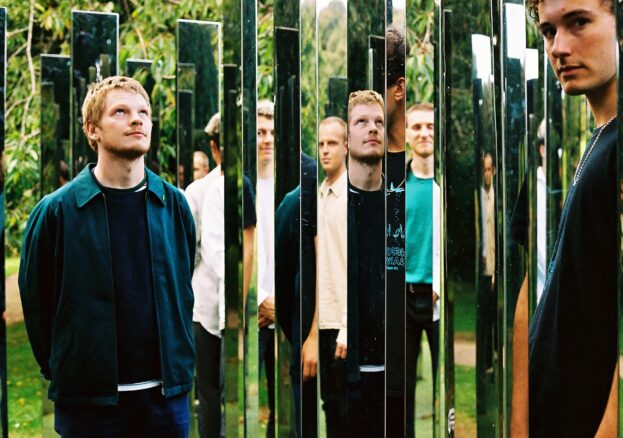 In support of their excellent debut album Bright Green Field, genre-mashing five-piece Squid are performing one of their biggest headline shows to date at Manchester's Albert Hall.
What would you expect a record called Bright Green Field to sound like? A sunny folk album, maybe, full of blissed-out paeans to the natural world? Well, pastoral splendour is in short supply on Squid's debut, whose field is more of a concrete slab, ruled by big pharma, sinister capitalist agendas and bureaucratic dystopia.
Bright Green Field exemplifies Squid's ethos of pushing forever forwards.
Meeting at The University of Brighton in 2015, the five members of Squid connected over a love of ambient and jazz, and began playing together at a local jazz café. But their tastes widened and skills expanded, and soon the propulsive sound of 1970s Germany found its way into the band's eclectic palate – via their debut EP, 2017's Lino.
Released on Speedy Wunderground, 2019 single 'Houseplants' – a frenetic burst of wiry post-punk and jagged kraut-jazz – rocketed the band to being one of the most hyped in the UK, reinforced by follow-up EP Town Centre, which Pitchfork described as "a declaration of limitlessness."
This sense of limitlessness and perpetual forward motion continues on their debut for Warp. Making mincemeat of genre, the record conjures a dystopian cityscape, drawing parallels between science fiction and the bleaker aspects of contemporary society.
"As the sun sets on the Glaxo Klein / Well it's the only way that I can tell the time," sings Ollie Judge on the Ballardian 'G.S.K' (short for pharmaceutical company GlaxoSmithKline). The song brings to grim life "Concrete Island", a place where daily life is presided over by an all-powerful drug conglomerate. Deranged-sounding horns and seasick strings sleuth around the dystopian terrain, while disembodied samples fire like drug-tickled synapses – all perfectly choreographed with the unfolding imagery.
From there we move to the unlikely lead single 'Narrator', which ricochets from funk strut to screeching chaos via the unnerving spoken word of guest vocalist Martha Skye Murphy. It's an eight-minute odyssey that sees Squid pick the bones of any number of genres, fusing mismatching limbs into an ungodly hybrid exoskeleton – one that jolts and twitches, while Murphy wails like a slasher film victim.
The sunny mood continues into 'Global Groove', whose characters watch their "favourite war on TV" before they go to sleep, while 'Pamphlets' interrogates right-wing propaganda. But it's not all bleak; these tracks are bursting at the seams with energy and ideas, which has the effect of making them oddly… life-affirming. Paranoid anthem 'Paddling' holds its own unlikely optimism. It sees the band lock into an intoxicating art-punk groove, with Ollie Judge's characteristic Sprechgesang vocals interspersed with more melodic ones – a burst of warmth and humanity.
The album was produced by Dan Carey (Black Midi, Fontaines DC, Kae Tempest, Franz Ferdinand), and his experimental leanings are evident throughout – from field recordings of ringing church bells to the sound of a microphone orbiting a room of guitar amps. It all adds up to an incredibly ambitious album – one that exemplifies Squid's ethos of pushing forever forwards.
Speaking of which, the last time they played in Manchester was at The Stoller Hall in June. They decided not to promote their new album, but to perform a set of work-in-progress songs; they'd just got a Top Five record and already their eyes were fixed on the future. Don't worry, though, their show at the Albert Hall – one of their biggest ever – will be more about celebrating Bright Green Field. And God, it's an album worth celebrating.