The Dino Adventure at East Lancashire Railway
Shekina Rose, Families Editor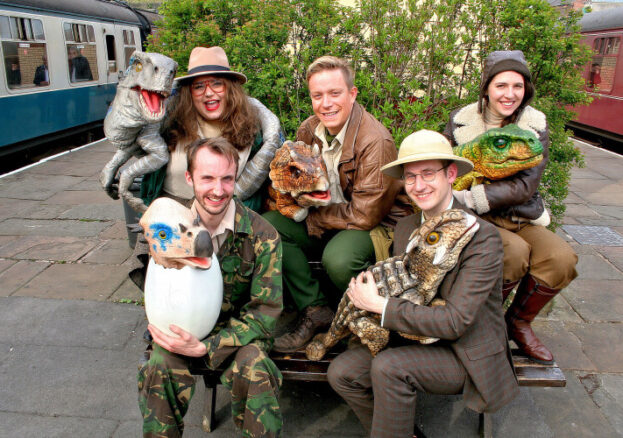 Families, get ready to travel back in time to a world pre-humans, in a roaringly fun Jurassic adventure. The Dino Adventure at East Lancashire Railway is taking place on 2 June, and will be the last dino adventure of 2022 after two days of dino-fun already, which took place in April.
Recommended for families with children aged 4-11, but suitable for any age, this Jurassic event invites you to step-aboard an exciting and interactive time-travelling steam train, taking you on a two hour return trip from Bury to Rawtenstall. During the journey, you will get a chance to meet with a herd of delightful baby dinosaurs, and get up close with lots of cretaceous cuties. You might even be able to give the T-Rex a tickle under the chin, if you dare! Watch out, though, you never know when one might… SNAP!
The Dino Adventure at East Lancashire Railway presents a unique opportunity for you and your family to go on an unforgettable steam-train journey through time, alongside several colourful and eccentric characters and truly terrifying (and sometimes cute) dinosaurs. During the dino-proofed steam train ride, you can also get involved with many dinosaur-themed, fun and entertaining activities. For the curious minds, you can ask all the questions you like about dinosaurs and their world, as you will be travelling alongside expert T-Rex wranglers and Triceratops tamers, heading back to the land of the dinosaurs with you, to share their expertise and make sure no one gets eaten!
There will be plenty of photograph opportunities at the Dino Adventure at the East Lancashire Railway, so you can take your Jurassic memories home with you and fossilise them forever.
For the hungry dinosaurs, food and drink will be available to purchase from our café on Platform 3/4 at Bury Bolton Street Station and from the Rawtenstall Buffet. Food options available for the carnivores, herbivores, and omnivores too!
After the incredible steam-train experience, end the day on a high with a trip to Bury Transport Museum, situated just across the road from Bury Bolton Street Station. At the museum, you can go on a journey back through the 20th century, featuring lots of hands-on exhibits and full-size vehicles.