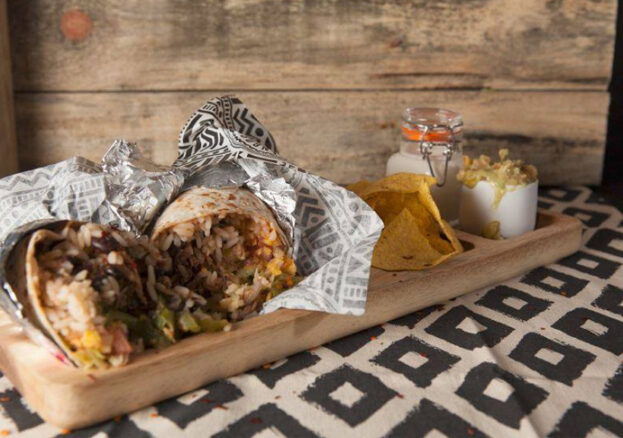 The burritos at Listo don't taste incredibly different from the ones they roll up at Barburrito (whereas at Panchos in the Arndale, they do). But the restaurant itself is about five hundred times more interesting, with a décor that's all funky colourful patterns, lucha libre murals, Day of the Dead chic and mismatched mirrors. They have a quirky playlist and free Wi-Fi. And they supply a bit of character on a dull stretch of Oxford Road dominated by fast food and coffee chains. What's not to like?
A bad burrito hits your gut like a foil-wrapped torpedo
On my first visit, I tried a bean and chicken combo. I ate it happily enough, but it wasn't completely lighting my fire. The second time I tried the slow-cooked pork, a soft mass falling apart into its constituent meaty fibres. This was much better. It didn't have a lot of depth on the taste, but this is hard to achieve with hot plates. And there was more than enough flavour supplied by their fresh salsa, a coarse tomato-led mix that's close cousin to a gazpacho. It was a filling, tasty meal.
Listo gets extra credit for stuff like their trio of custom sauces. Sure, they could have just put out bottles of Tabasco like some people but instead they've introduced us to three solid options: smoky chipotle; a delightful mango, lime and habanero; and The Fiery Fiesta, which I have capitalised out of respect as it actually burns the mouth. They also sell Jarritos, the Mexican brand of day-glo fizzy pop that's a staple of bodegas and tacquerias all over North America. Listo needs to work on their non-fizzy drink selection though. My vote's for horchata, the sweet cinnamon-y Mexican rice drink I have never seen in Manchester… yet. Hey, a girl can dream.