Chorlton Beer Mile
Ben Williams, Managing Editor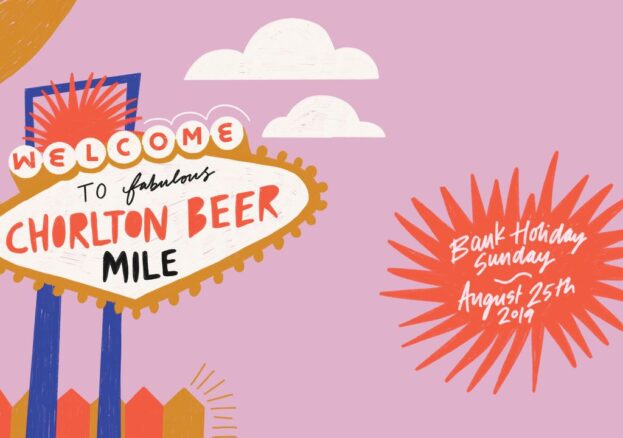 Ahh the Chorlton Beer Mile! For some of us, a trip down this merry way is what bank holidays have been about for longer than our livers care to remember. Now, thanks to a team-up of several of the suburb's best watering holes, this is an official – and therefore, acceptable – way to spend one's precious long weekend.
Not to sound all Willam Hauge, but the last time I played any part in a Chorlton pub crawl we managed eleven stops. Chorlton being Chorlton, we didn't even walk more than a mile to get to them; taking in such wonders as the The Sedge Lynn and The Royal Oak. Now The Oak is a pretty standard Greene King pub which at least has a pool table, but The Sedge is a Weatherspoons under the tyrannical, pro-brexit rule of Tim Martin – a man so out of touch he thinks pubs are better without music and dogs.
Anyway, this is a proper craft beer-focused crawl taking in only Chorlton's very finest purveyors of quality brew.
Which end of the Chorlton Beer Mile you start at is up to you, but let's assume your first stop is The Beagle. Sister-venue to Creative Tourist favourite Common,  the Beagle is having a tap takeover by Siren Craft Brew this bank holiday; a modern brewery based in Berkshire who claim their 'flavour-forward beers' are designed 'to excite and intrigue'. The copy they come up with at these modern breweries is often a little over-cooked (ahem…), but their lineup of beers is mouthwatering. The Beagle is also a good place to line your stomach with an excellent choice of eats, no matter the time of day.
Next stop is the neighbouring Proof. We don't know what they are up to as yet, but I recommend sticking with beer this early along The Mile. If you're going the other way,why not have one of their famous cocktails. Knock yourself out… it is the last long weekend of the year.
The Beer House (formerly Marble Beer House) is your next pint. They have an IPA Fest on this bank holiday with a host of specially selected Indian Pale Ales for you to enjoy. The Beer House has been knocking out quality craft ale longer than most of the other bars here have even been open. They know their stuff and are not to be skipped.
At this point you should still be feeling pretty good as you approach Pi. Again, we don't know exactly what they're planning, but much like The Beer House, they've been doing this for years and are a safe pair of hands. For most, the complimentary peanuts should be enough to keep you going, for everyone else,  there's a fine selection of PieMinister pies to choose from. Warning, too much delicious stodge at this point could be fatal.
Next up is another Creative Tourist favorite, Mary & Archie. The bar on the enviously sunny corner of Kensington Road will be taken over by Shindigger, a Manchester-based independent brewer who've become something of a go-to option for beer drinkers in the city. It's probably about now that you're starting to feel either a little wonderful, or a little wobbly, depending on your constitution. Luckily, it's a bank holiday, so your hangover is  inconsequential. Even more lucky though, Mary & Archie do some bangin' food too. I recommend the quesadilla, but there's plenty on the menu to keep everyone happy.
Finally (or to begin with – depending on your route), it's The Font. If you've kept enough gas in the tank by this point, you'll be rewarded with a choice of eight guest kegs curated by Aberdeenshire's Fierce Beer Co Brewery. Hot tip, download The Font app and your first drink is free…. like you'll need another one.
Alright, you've had enough now. Plenty of water and to bed with you.