Charity Super.Mkt at Media City
Carmel Smickersgill, Tours & Activities Editor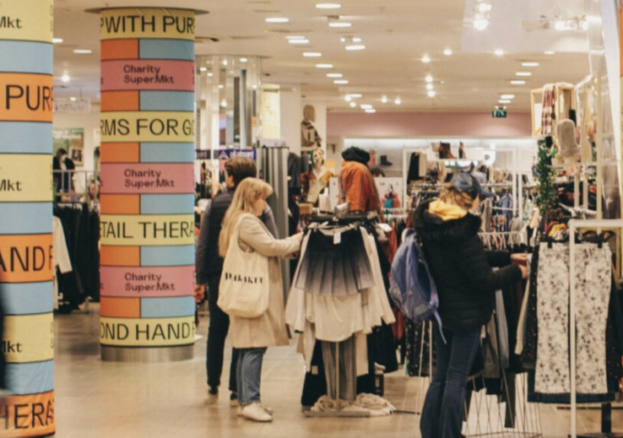 This winter at Media City, a unique clothing shop has opened. It has the curation of an exclusive boutique combined with the morals of a social justice enterprise and the scope of a vintage warehouse. This is the Charity Super.Mkt. Created by Wayne Hemingway MBE (founder of Red or Dead) alongside Marie Chenoweth, CEO of sustainable clothing company TRAID, this latest endeavour aims to provide charity partners with some extra income while providing a shopping experience for the public where you can be assured of a high standard of quality and style. 
Both Hemingway and Chenoweth are strong advocates of sustainable fashion and have been speaking out against the less glamorous side of fast fashion for years. This preloved fashion shop located in Quayside Media City and is a large selection of second hand clothing which has been curated and selected based on the quality and style of each piece. Although the shop is large, you won't find yourself having to sift through endless rails before finding a hidden gem. It's more like walking into a jewellery shop and realising there's gems everywhere, you just have to find the right one for you. 
The charities involved in the project are a mix of national and local causes but you can be sure your money is going to a good place based on the track records of the two people who started the shop. 
Whether you're looking for some new threads to wear at the office Christmas party, trying to find a more sustainable way of buying presents or simply looking for a better way to shop that avoids the capitalistic labyrinth we know better as the Arndale. Charity Super.Mkt is a refreshing new addition to Media City, even if it is only temporary.