Bourgeois & Maurice: Pleasure Seekers at HOME
Kristy Stott, Theatre Editor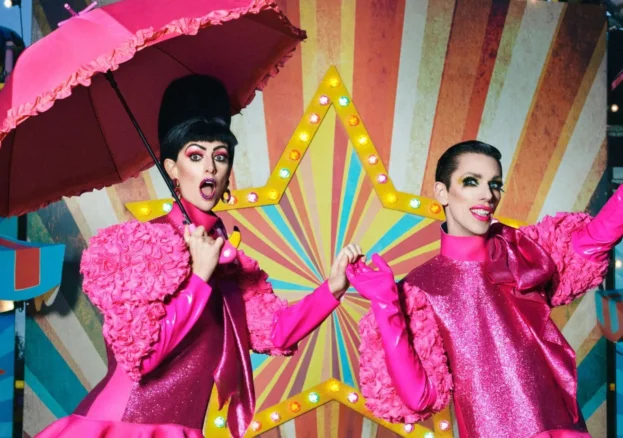 Our favourite musical twosome are back in Manchester this Christmas with a brand-new high-energy show. Sequin-clad and gloriously unhinged, Bourgeois & Maurice bring their spectacular new cabaret performance – Pleasure Seekers – to HOME.
Promising a show that is dedicated to "optimism, hedonism and non-stop pleasure", the cult musical duo are known for their outlandish and hugely funny performance style. And although we're not entirely sure what they have in store for us this time around (are we ever?), we can expect perspicacious wit, savagely satirical songs, jaw-dropping outfits…and an 8ft piñata.
Blurring the line between contemporary cabaret and alternative comedy, Bourgeois & Maurice are well known as one of the UK's most subversive and inventive musical acts.
Described by The Guardian as "modern-day music hall stars", Bourgeois and Maurice, aka writer-performers Liv Morris and George Heyworth, are hailed as leaders of the UK's alternative performance scene. They first performed in 2007 and have since gone on to tour the globe. Producing and touring eight full-length theatre shows: How to Save the World Without Really Trying (2016), Social Work (2009), Shedding Skin (2010), Can't Dance (2010), Fa La La La La/ Started a Band (2011), Sugartits (2012), Middle of the Road (2014) and Insane Animals (2020), which was commissioned and produced by HOME; the show ran for 3 weeks in 2020 and became one of the venue's best-selling productions.
Directed by Jude Christian, Pleasure seekers looks to be a meta-spectacular – entertaining, filthy though strangely, life-affirming. Uplifting and flamboyant, join the cabaret superstars as they launch head-first into a joy jacuzzi. Let's face it – this show is probably just what we all need as we wade through the mayhem of December.