Black Midi at The Ritz
Johnny James, Managing Editor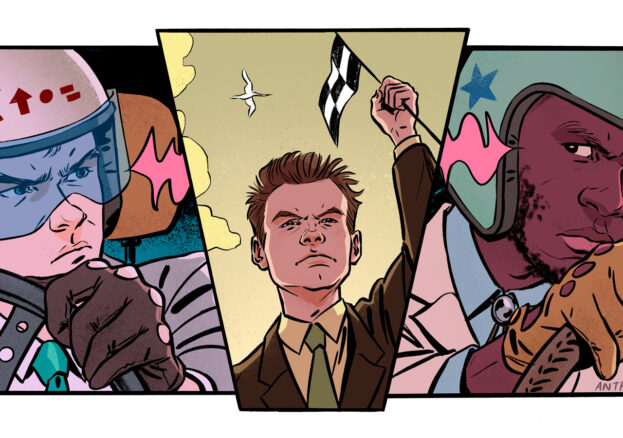 Fresh from the release of their hellacious second album Cavalcade, Svengalis of the avant-rock scene Black Midi are performing at The Ritz on 8 November, following the postponement of their September show.
Arriving two years after Schlagenheim, a debut that saw Black Midi become the most hyped new band in the country, Cavalcade scales beautiful – and terrifying – new heights. It's both heavier and prettier than its predecessor, flitting between free jazz-tinged math rock and Scott Walker-esque balladry with insane musical prowess.
Black Midi — Geordie Greep (guitar, primary vocals), Cameron Picton (bass, vocals), and Morgan Simpson (drums) — see Cavalcade as a line of larger-than-life figures, from a cult leader fallen on hard times to an ancient corpse found in a diamond mine to legendary cabaret singer Marlene Dietrich, strolling seductively past them. "Each tells their story one by one and as each track ends they overtake you, replaced by the next in line," comments Picton.
Recorded at the aptly named Hellfire Studios in the Dublin mountains, 'John L' is a ferocious opener. Its axe-wielding violin theme is performed by fellow South London luminary Jerskin Fendrix atop dissonant piano slams, deranged saxophone squarks and pummelling drums. When the track reaches its chaotic zenith and the centre cannot hold, the band deconstruct the groove and plunge into pools of reverb, before thrusting to the surface to ensue the assault. Atop, Greep slurs out a jet black comedy about what happens to cult leaders when their followers turn on them.
The ferocity ensues in 'Slow' and 'Hogwash and Balderdash' – two more restlessly complex tracks wherein Black Midi's technical abilities simply cannot be ignored. Again, just as the high drama reaches an unsustainable peak in these songs, the band offer a pocket of relief, allowing us to catch our breath before the cavalcade lurches on. Yes, this is dense and difficult music, but these moments – sometimes primal sections of call-and-response stabs, sometimes a few seconds of lavish ambience, help us to get our bearings and, by way of contrast, appreciate the downhill thrills all the more.
Speaking of contrast, tracks like 'Marlene Dietrich' and 'Ascending Forth' show a very different, seductive side to the band; the axes laid to rest, Black Midi lean into a yearning and eerie romanticism, not dissimilar to Jeff Buckley or Scott Walker. Greep's vocals even sound a bit like the latter crooner in these tunes – a lovely palate cleanser from the tightly-wound vocal affectations we hear elsewhere. Harmonically, they also offer up some really interesting moments, served by the band's new approach to writing – previously it was improv-based; now much of the material is written by individual members and brought to the table in rehearsal. One of these moments is winkingly signposted by the title of the last track, 'Ascending Forth', which rises by a fourth whenever Greep hits the titular phrase.
Black Midi seem to operate in dog years. When they shot out of the blocks with their first record, it was like each of these unassuming teenagers had somehow passed through a lifetime of left-field listening and instrumental practice. Now, they've stretched their powers even further in almost every direction. Live, they play so ridiculously well that you'll catch people in the crowd exchanging glances with their mates, wordlessly exclaiming: Are you f***ing serious? every so often. It's been a long old while since we've been able to experience that, and knowing Black Midi, they'll be hunkering down for album number three before long – so, get your downhill thrills while you can at The Ritz on 8 November.