BC Camplight at The Ritz
Johnny James, Managing Editor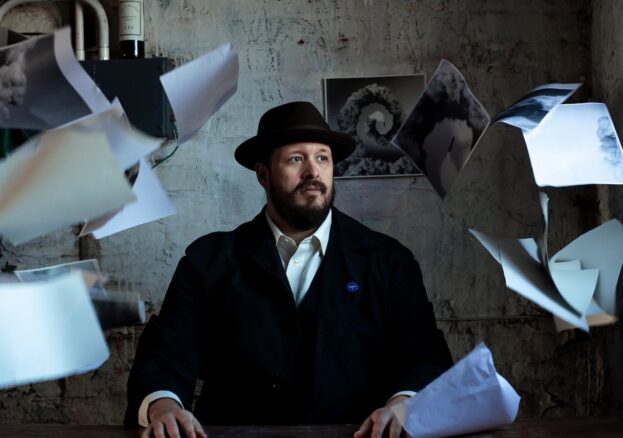 Third time lucky? After two postponements, Philadelphian singer-songwriter BC Camplight performs his biggest ever show in Manchester – a city Brian Christinzio now calls home. Here's why Philly's loss is Manchester's gain, and why his gig at The Ritz is one of our top picks of the month.
"Manchester saved my life", Brian Christinzio declared shortly after moving to the city in 2011. He wasn't speaking figuratively. He'd already released two albums in America, and while both were gems of a certain psych-pop vintage, combining eloquent songwriting with a self-destructive bent, they were a commercial flop. Dropped from his label One Little Indian, he succumbed to drink and drugs and found himself battling mental health issues while living in a disused church in Philadelphia.
A fan on Facebook suggested that Christinzio uproot to the North of England – a pretty bold idea, but one that changed everything. 3000 miles from his home Christinzio began writing music again, found himself a band in the first pub he walked in – The Castle, obviously – and released his most successful album yet via Bella Union. The piano-led How To Die In The North was a remarkable return, serving up a haunted take on 60s sunshine pop, hushed 70s soul and wonky psychedelia. It was a great moment for Christinzio. But a short-lived one…
Two days after the album dropped, Christinzio was deported due to visa complications. "The next thing I know, I'm playing Pac Man in my parents' basement in New Jersey, thinking, this is my life now", he says. It wasn't just the album tour that was wiped out; Manchester was the only place Christinzio felt he could make new music. Without that, his bad habits and his mental health issues spiralled. It was a whole two years before he was allowed back into England, and by that time, he was in a dark place. "I thought, I can't wait to hear what this next album is going to sound like."
A gnarly and exhilarating documentation of calamity, Deportation Blues is devoid of the whimsy of his earlier work; its cold, electronic soundworld reflects the inner world of its creator, who recorded in pitch black in a windowless studio in Liverpool. It must have been a pretty conflicting feeling, then, when this ominous creation – filled with songs with titles like 'I'm Desperate' and 'Am I dead yet?' won Christinzio the acclaim he'd been striving for all his life. Uncut called it "utterly compelling", PROG called him "a singular talent"; things were looking up. Until they weren't.
It comes down to what you want out of a gig. Something Instagram-worthy, preened and sugar coated, with no danger of danger? Or a chaotic trip steered by a real and fallible human being who takes disaster and turns it into gold?
Coinciding with the release of the album, Christinzio's father Angelo unexpectedly died. "I went into a spiral that was worse than any time since my twenties," he recalls. One way to process tragedy is comedy, and that's the way Christinzio found himself dealing with yet another disaster. It's also the way the excellent Shortly After Takeoff – the third in his 'Manchester trilogy' of albums – came into being. From grief-stricken vulnerability to armoured bravado, from the black dog of depression to gallows humour, Christinzio lays out a direct line between himself and his listener on this record, while serving up by far his best tunes yet.
Bleak comedy is evident from the album's first song. 'I Only Drink When I'm Drunk' features Christinzio's trademark 'keep you on your toes' style, which he describes it as "Hank Williams on cough medicine being awoken by ferocious guitars". 'Ghosthunting' similarly changes tack, between serene melody, classical harps, and pounding passages. 'Cemetery Lifestyle' appears to feed on The Four Seasons and crunchy new wave, while 'Back To Work' flits manically between dreamy rock and robotic funk. That last one in particular sums up the eccentricity of this record. "The verse seems to make sense", says Christinzio, "then out of nowhere, boom boom…just when you think you have it figured out… It's the never-ending cycle of mental illness."
Simply put, this music is nothing like anything else coming out of Manchester, or perhaps anywhere in the country. Few people on these shores seem to be uninhibited enough to lay it quite so bare as Christinzio, and no-one does the whole tragicomedy thing so remarkably well. I mean, this thing is hilarious. "I woke up in a Nando's carpark dressed in a banana suit / This wouldn't bother me so much if I owned a banana suit" goes the verse of 'Cemetery Lifestyle', while a vision of his father's ghost in 'Ghosthunting' looks like Pavarotti, moves like a caterpillar and smiles like Countdown's Rachel Riley.
Christinzio takes all of this volatility and hilarity to the stage. "It is a journey every night", he says. "One moment, I'm basically doing a stand-up routine and the next, the band and I are playing like we plan on dying that evening, giving our everything. Then I'm on speakerphone to my Mom on stage before assaulting my piano." Christinzio's bombastic and intense live performances have earned him an ever-growing legion of devotees that see him as an anti-rockstar, an unfiltered talent. I guess it comes down to what you want out of a gig. Something Instagram-worthy, preened and sugar coated, with no danger of danger? Or a chaotic trip steered by a real and fallible human being who takes disaster and turns it into gold?