Baxter Dury at The Ritz
Johnny James, Managing Editor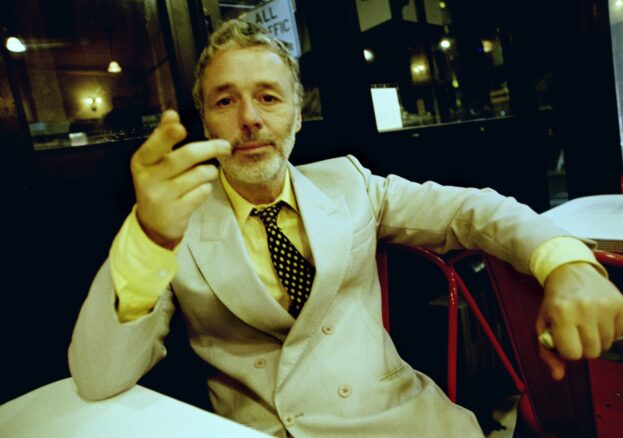 Musical raconteur Baxter Dury is bringing his unique, character-driven songs to The Ritz on 4 November, supported by thrilling freak-pop duo Audiobooks.
Spinning wry stories of life among the well-heeled yet poorly behaved, Baxter Dury has that rare knack for making the ordinary sound extraordinary. Failed Fashionistas, Instagram voyeurs, jilted Romeos, the willingly self-deluded, the comically unaware… Dury's latest album Night Chancers (2020) turns grey into gold, surveying modern life's underbelly via prowling oddball pop and a gravelly, whisky-bar-at-2am voice that's in perfect step with the lewd pictures it paints.
After a volatile early life, which included two years living with an amphetamine dealer known as 'The Sulphate Strangler', Dury's musical career began with a performance at the memorial service for his father, the new wave icon Ian Dury, in 2000. This sparked a series of albums that fused chamber pop with nervy new wave, before 2017's Prince of Tears incorporated some disco elements. In 2019, Dury teamed up with French house legend Etienne de Crécy and Skinny Girl Diet vocalist Delilah Holliday to release a short album of electro-tinged debauched balladry titled B.E.D, his first album for Heavenly Recordings.
Also released on Heavenly, Night Chancers is up there with Dury's best work yet. From thrilling affairs that dissolve into sweaty desperation ('Night Chancers') to absurd bloggers, fruitlessly clinging to the fag ends of the fashion set ('Sleep People') via soiled real life ('Slumlord'), the record's finely drawn vignettes are all based on the corners of world Dury has visited on his rebellious and nomadic path through life.
We can't wait to hear these tunes performed live, alongside his new single, 'Baxter (These Are My Friends)' –  a collaborative effort with Fred Again, a lauded pop producer who studied under Brian Eno. It's a hedonistic floor filler, perfectly soundtracking our collective return to sticky dance floors and amazing nights we'll never remember.
Get down to The Ritz early and you'll be rewarded. Audiobooks threw everything at their 2018 debut album – a head-spinning blast of freewheeling, freak-pop genius. Its follow-up, Astro Tough, ramps things up further, channelling David Wrench and Evangeline Ling's chaotic energy and inherent weirdness into something bigger, deeper and more powerful.
The duo's beginning says it all. After meeting briefly at a party, Ling arrived unannounced at Wrench's studio the following morning, wearing pyjamas. An in-demand producer of the likes of David Byrne and Frank Ocean, Wrench was busy, so Ling took it upon herself to explore his vast modular synth collection. Ling's noodling quickly saw Wrench's attention tuned, and before long they were both in the throes of a wild psychedelic jam. It was the first of many that formed their 2018 album, Now! (in a minute), which was recorded under a strict one-take policy, with outrageous on-the-fly lyrics taking in everything from perverted grandmas to late-night body waxing, delivered under the guise of various hysterical characters.
Audiobooks have taken a different approach with their second record, released via Heavenly Recordings at the start of October. "The first album was a photograph of the beginnings of the project, recorded without any overall plan," Wrench explains. "Astro Tough is more scripted, but a script that still allowed for lots of improvised scenes. There was more intention behind the songs, and a lot more refining". That much is clear from lead single 'The Doll' – an unsettling, pulsating banger that leans towards the darkest corner of the dance floor. Lyrically, it catches Ling at her best, weaving a captivatingly weird narrative about a young girl who loses a doll, while charting the stages of grief from loss and denial to acceptance.
Above all else Astro Tough is a record that brims with energy. With their roles diverging more clearly than on their debut – Wrench handles almost all the music, Ling the lyrics and vocals – both dig deeper into the enormous emotional potential of each. "I definitely go to town with my feelings," says Ling. "If I find I'm in a certain mindset, I'll go as extreme as I can with it in my lyrics. I know I'm being over-dramatic." Take the babbling hedonism of 'Lalala It's The Good Life' for example, or the hilarious 'Blue Tits' – a song so toe-curlingly seedy that it's sometimes too much even for the singer herself. On the flip side, 'Black Lipstick' is a heads-down techno-trance chugger – not so different to the minimalist, analogue bangers currently propping up the Berlin underground. It all amounts to an eclectic and thrilling record – one that scoffs at the idea of the difficult second album.
Both acts on the bill are in an exciting creative place, and it'd be worth £20 to catch just one of them; to have them together under one roof is pretty special.