Agnès Varda: Pioneer at FACT
Tom Grieve, Cinema Editor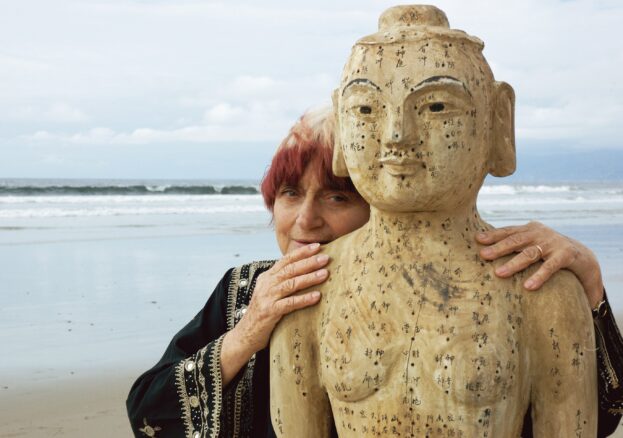 Working to widespread acclaim in both documentary and fiction over the course of six decades, Agnès Varda is, at 90-years-old, firmly established as one of cinema's greatest filmmakers. Alongside newly commissioned work at FACT, Liverpool Biennial present an extensive film season consisting of works by Varda and a set of films she has personally selected to accompany her own. A defining voices of the French New Wave, newcomers to Varda's films can expect work that is uniformly dextrous, playful and open-hearted, but also serious, feminist and radical in form.
Unlike a lot of her New Wave colleagues, Varda didn't start out as a film-buff or critic, but a documentary photographer — something that has informed what she has termed her "cine-writing" (cinécriture). Her fiction films include moments of vérité documentary, whilst her documentaries are full of imaginings, as we're invited into her family, into the places she cherishes (mostly beaches) and into her deepest thoughts. Endlessly adaptable — check out @agnes.varda on Instagram — the director, who has a new feature, Faces Places, out this year, has generated a body of work that's remarkable for both its meandering variety and its consistent generosity.
Starting at the beginning with Varda's 1955 debut La Pointe Courte (Wed 18th July), FACT's vast, three-month film season includes eight of her best known works. Included amongst them is the director's Cléo from 5 to 7 (1962; Wed 25th July), a stylishly-wrought New Wave classic which follows a Parisien singer as she awaits the results of a biopsy in almost real time; the newly-restored One Sings, the Other Doesn't (1977; Wed 22nd August) is a politically-minded "feminist musical" about the decade -spanning friendship of two women; whilst The Gleaners and I (2000; Wed 3rd October) is a documentary collage notable as the director's first work on digital video.
To accompany and compliment her own work, Varda has also personally curated a set of films by her heroes, colleagues and friends. The selection is fascinating in itself, with an emphasis on visionary, off-kilter masterpieces such as Ingmar Bergman's Persona (1966; Wed 15th August) and John Cassavetes' A Woman Under the Influence (1974; Wed 10th October). Jacques Demy — Varda's Husband of almost thirty years before his death in 1990 — is represented with his much loved musical The Young Girls of Rochefort (1967; Wed 12th September) whilst filmgoers can catch fellow French New Wave icon Jean-Luc Godard's explosive Pierrot Le Fou (1965) on Wednesday 26th September.
A range of talks, live events and Q&A's will provide varied entry points into the themes and subjects covered by the films.