2023 Banner Exhibition guided tours
Carmel Smickersgill, Tours & Activities Editor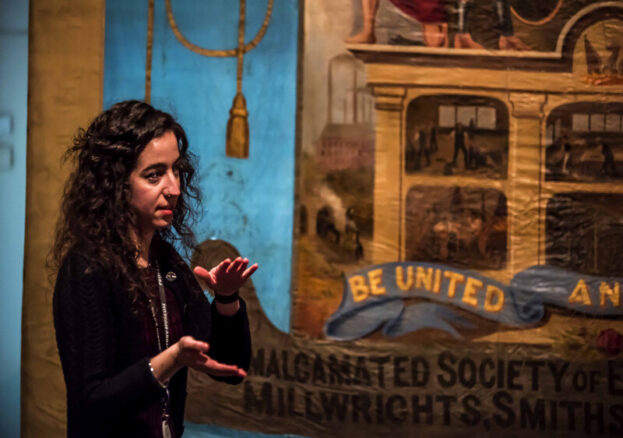 The banners are back! People's History Museum houses a collection of banners spanning centuries, continents and numerous causes. Each year they curate an exhibition of notable additions. Aside from being an artistically fascinating phenomena and a collection of some of the best craftivism, these banners are a reminder that there are so many people fighting for so many causes and it has been going on longer than any of us have been alive.
This year sees seven year old Annabelle's 'Save Me' banner, created for the climate strikes in Preston (2019), positioned alongside the Ascott Martyrs quilt created over 150 years earlier. The latter was sewn by a group of sixteen women in support of their striking husbands who were campaigning for fairer pay. It was the actions of these women that led to picketing becoming legalised in 1874.
The exhibition is a bastion of good curation and a form of activism in itself. Combining a series of artefacts that have considerable distance from our current time, place or personal experiences and positioning them in relatable, thought provoking and meaningful contexts, they hold a mirror up to some of the issues we're still facing in society today.
The 25 banners in the 2023 banner exhibition can be explored in greater depth with a one hour guided tour from the museum staff and expert conservation team. Get a more personal insight into the choices made surrounding why the team felt that now was the right time for a particular banner to be included.
Tours are available on a pay as you feel basis and there is an option for a BSL interpreted tour.